8 hours of valuable knowledge! The wonderful recap of the first stop of the 6th Overseas Warehouse Conference · Ningbo event is here!
'6th Overseas Warehouse Conference · Ningbo event recap is here! 8 hours of valuable knowledge!'
On May 17th, the first stop of the 6th Overseas Warehouse Conference, themed "Seeking Truth, Seeking Change, Seeking Progress," opened as scheduled in Ningbo, with an 8-hour knowledge feast and a full day of in-depth information.
This event invited 15+ big names including All Things Grow, Geli Optoelectronics, Foshan Feiling, Guangbo Group, CAT LINK, Dingtalk, EqualOcean, 36Kr Overseas and others to share their insights on themes such as new cross-border trends, supply chain upgrades, financial and tax compliance, local operations, organizational performance, brand internationalization, and large-item internationalization.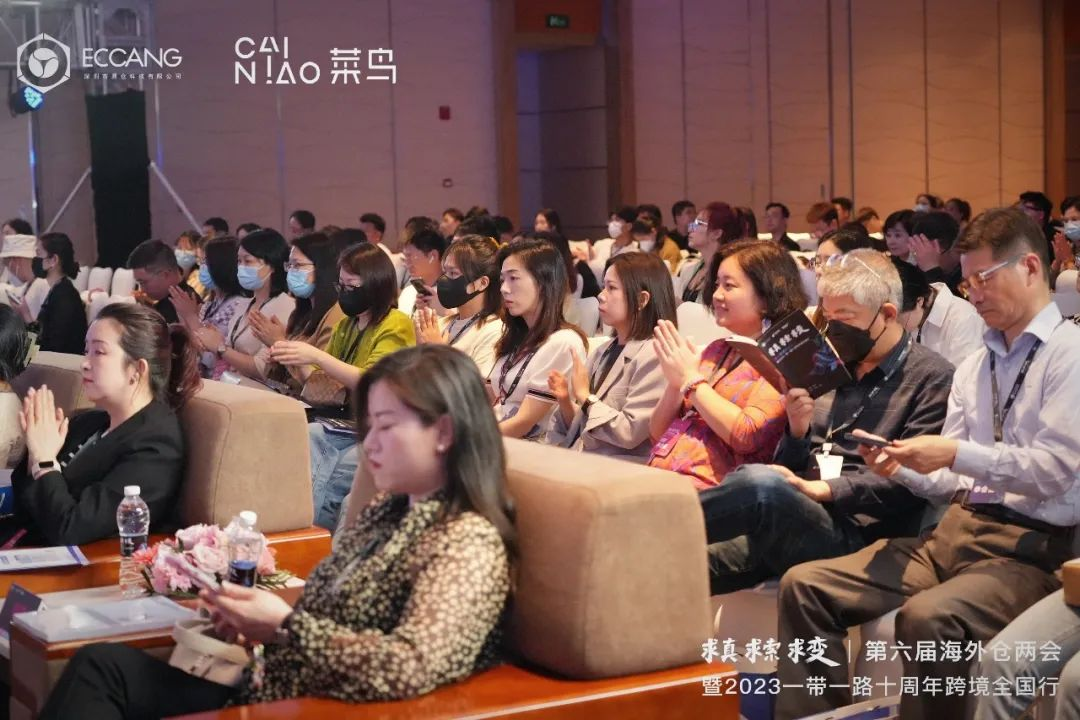 Scene of the 6th Overseas Warehouse Conference First Stop in Ningbo
So, what were the heavy-duty contents of the on-site sharing? What are the unmissable contents of the 2023 Overseas Warehouse Blue Book debut? Let's take a look together!
01
China's Brand Internationalization Morning Session
Trends, Breakthroughs, Large Home Furnishings
At this conference, we invited Xie Shangwei, Secretary-General of the Ningbo Cross-border E-commerce Association, to give the opening speech. He said, "During the whole process of cross-border e-commerce from a new business model to a new normal, we have discovered many compliance demands, overseas cultural conflicts, and Chinese brand construction, among other things. What stage is cross-border e-commerce at now? In summary, we believe that cross-border e-commerce has entered a global new retail era for China's foreign trade and destination cities. I also look forward to all the attending guests working together in Ningbo to create a better cross-border e-commerce industry."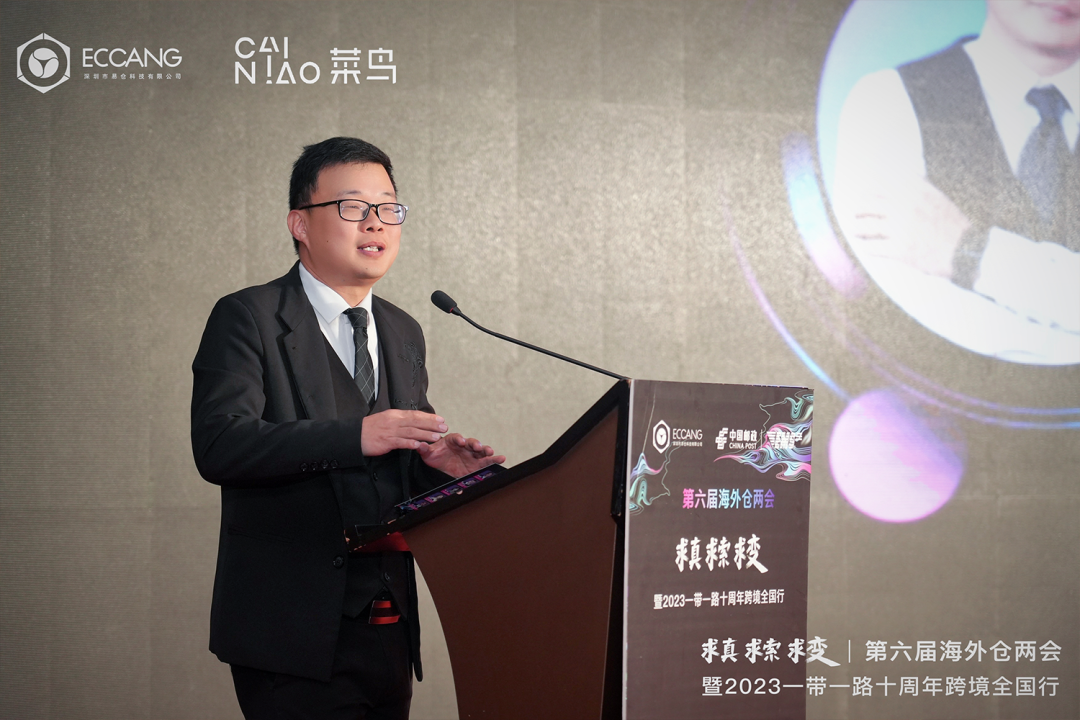 Xie Shangwei, Secretary-General of the Ningbo Cross-border E-commerce Association, then took the stage. Next, Chai Shan, the person in charge of cross-border affairs at the Ningbo Home Furnishing Association, co-founder of the China Ningbo Export Cross-border E-commerce Expo, and co-founder of the Silver Ying Home Furnishing Cross-border E-commerce Investment Fund, gave a speech. He said, "In 2022, the total output value of China's export cross-border e-commerce surpassed 1.55 trillion yuan, an increase of 10 times in the past five years, but only accounting for 6% of China's foreign trade exports. The growth potential and space of cross-border e-commerce are still huge. Some high-quality enterprises are still expanding rapidly, acquiring high-quality teams across categories, investing in manufacturing, laying out overseas and design brand teams, and completing the iteration and upgrading of modern, digital, and international retail brand enterprises. From them, we can see four important trends in the industry: R&D manufacturing, retail management, localization compliance, and capital funding."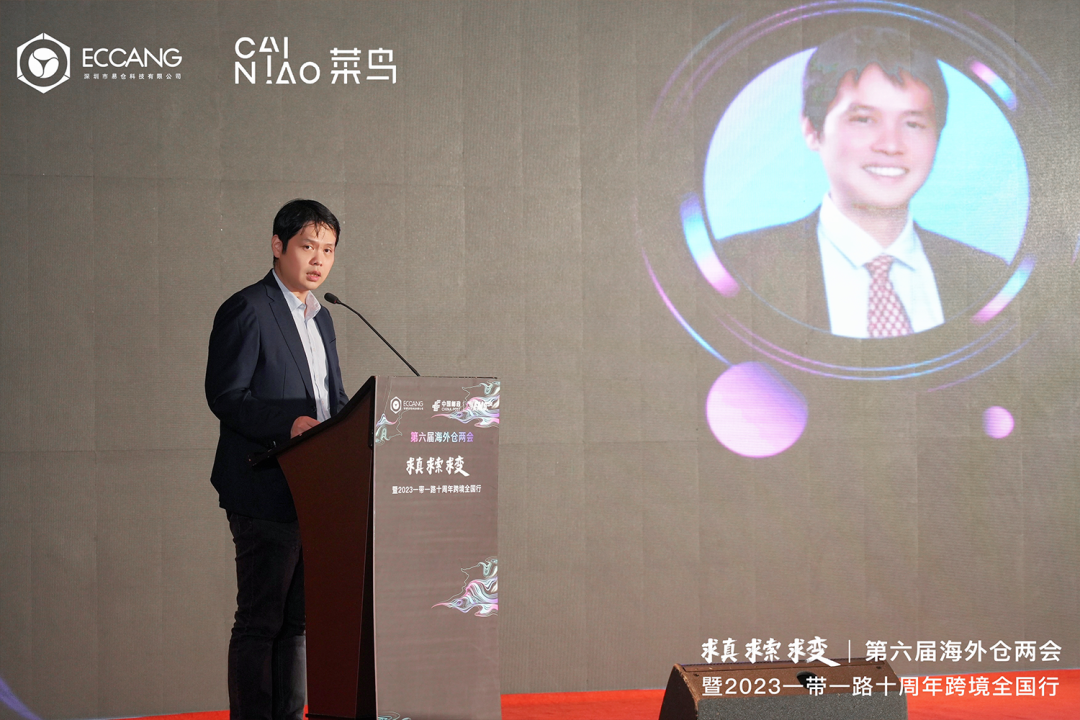 Chai Shan, person in charge of cross-border affairs at the Ningbo Home Furnishing Association
Chai Shan, the person in charge of cross-border affairs at the Ningbo Home Furnishing Association, understands the trend and underlying logic of global market changes, which is a prerequisite for companies to develop the correct strategy. EqualOcean founder Huang Yuanpu, who has traveled to Europe, America, Southeast Asia, the Middle East and other countries for many years and has rich overseas vision, shared his insights in the keynote speech "New Opportunities for Chinese Brands Going Global under the "Belt and Road" Strategy", bringing new enlightenment to the audience. He said: "Going global is the biggest trend in the next 20 years. The new globalization is a parallel process of regionalization and globalization. If we want to become a global company, we must land locally."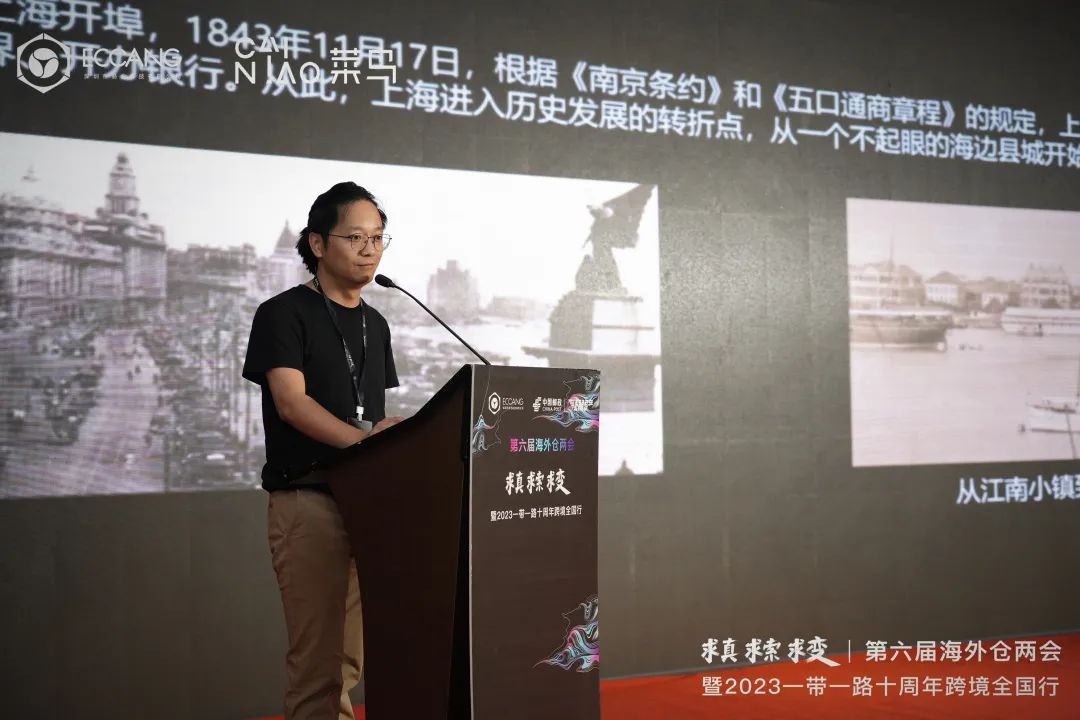 Founder of EqualOcean, Huang Yuanpu
Another important aspect of this conference that has received much attention is the premiere of the "2023 Overseas Warehouse Blue Book Special Edition" of "The Cross-border People's Attack" produced by BusinessDialogue Observation and Yicang Technology in collaboration with Jingbao Group. Ping Yi, CEO of the Yicang Technology Service Provider Business Group, combined with the latest data from the 2023 Overseas Warehouse Blue Book to share with everyone the new trends and breakthrough strategies of cross-border e-commerce in 2023, and publicly shared exclusive research data on global overseas warehouses in 2023 for the first time. He shared, "The whole overseas warehouse in 2022 is very chaotic. North America is already so chaotic, and there are still so many people rushing into North America. Without a doubt, in the case of everyone coming to grab the stock market, I suggest: first, improve efficiency and find differentiation; second, go to emerging markets. For example, the Southeast Asia region, where the overseas warehouse growth rate exceeded 90% in 2022."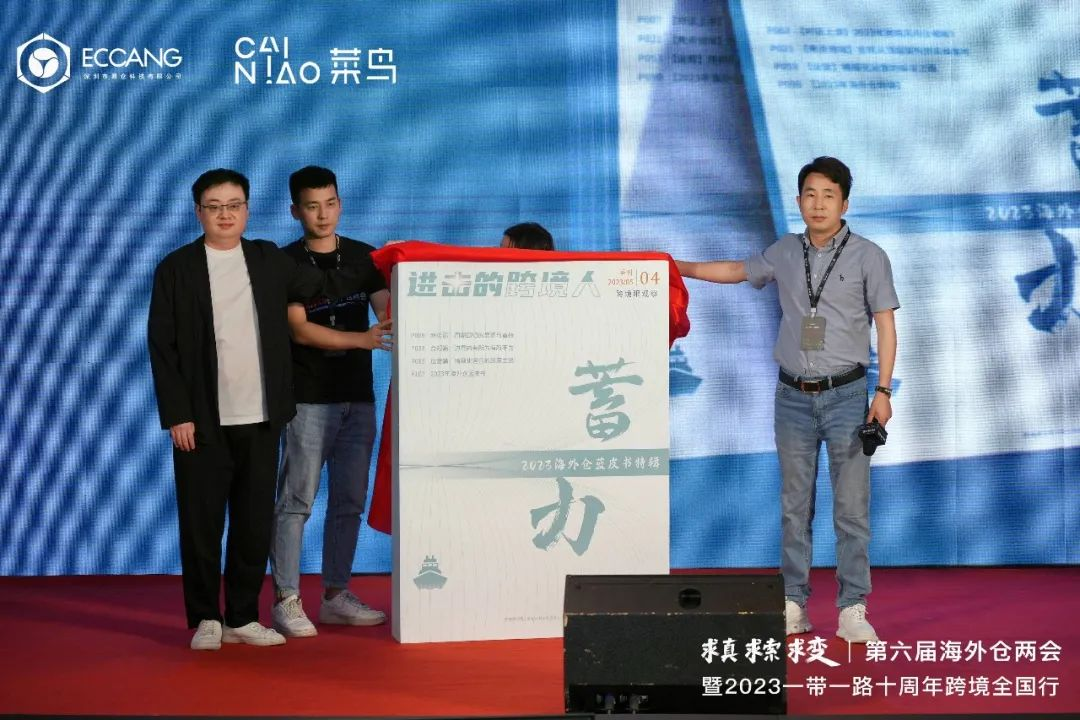 "2023 Overseas Warehouse Blue Book" Premiere: Ping Yi, CEO of Yicang Technology Service Provider Business Group (left 1), and Jingbao Group Founder/Chairman Qi Guoping (right 1)
Ningbo, as a port city, has a natural advantage in cross-border e-commerce. Here, a group of large-scale home furnishing sellers have emerged. This conference also invited Li Na, the general manager of Wanwushengzhang, a head enterprise in Ningbo's cross-border export e-commerce, to share the benchmark practice of "How to efficiently assist large-scale home furnishing in going abroad." She believes that "business should not always be moving forward, but should have ups and downs. Cross-border e-commerce is a risky industry. We should not blindly pursue high sales, but should do projects that can survive in the long term, have profits, and have reserves, such as: building brands, making differentiated, iterative, and upgraded products; paying attention to the efficiency of cash and inventory circulation; complying with regulations and operating legally; grasping pricing power; and broadening sales channels, etc. Finally, let us return to the essence of retailing, which is to create better value for customers."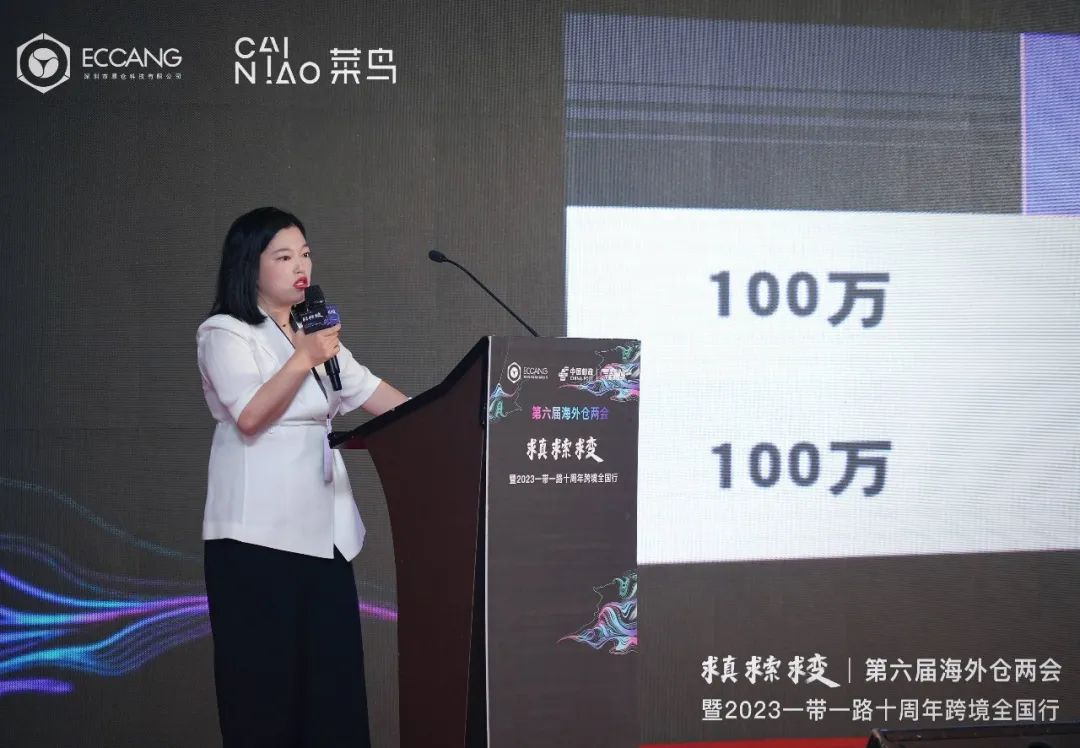 Ningbo Wanwu Growth General Manager, Li Na.
Of course, the morning session also featured a wonderful seller roundtable. Based on cross-border and technological trends, seller representatives and technology experts conducted an in-depth discussion on the "return to retail essence and the long-term branding of cross-border e-commerce sellers". They combined their industry experience with future predictions to vividly share insights on topics such as traffic, product experience, and ChatGPT-assisted branding. They presented methodologies and case analyses, and many sellers in attendance said, "I learned a lot!"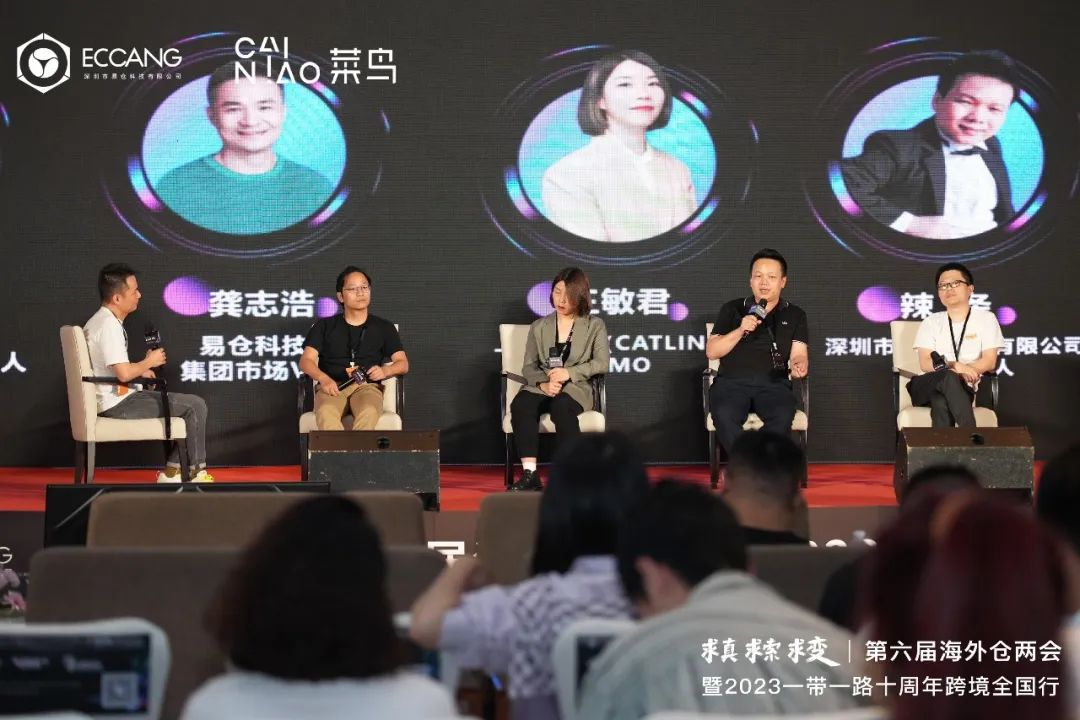 From left to right: Gong Zhihao, VP of Marketing at EasyCargo Technology Group; Huang Yuanpu, founder of EqualOcean; Wang Minjun, CMO of Shanghai Lianchong (CAT LINK); Lati, co-founder of Shenzhen Laiwen Technology Co., Ltd.; and Chen Si, CTO of EasyCargo Technology.
02
Afternoon Session: The Road for Chinese Brands to Go Global
Supply Chain, Informatization, Factory Transformation, Compliance
The afternoon session was opened by Alex, the dean of 36Kr Global Research Institute, who gave a presentation on "New Cross-Border Issues for China's Going-Global Strategy under the Great Change of the Times". He talked about new cross-border overseas market situations, potential risks, changing demands, and upgrading of China's manufacturing industry. He said: "As Chinese manufacturers, we should not be swept away by low prices. If we want to make some noise in the world, we should do these three things. First is marketing, including how to make overseas consumers understand the tone and temperature of our products from a branding perspective. Second is talent management, which will increasingly require the allocation of resources globally and management of foreign employees. Third is compliance, which is a matter of life and death."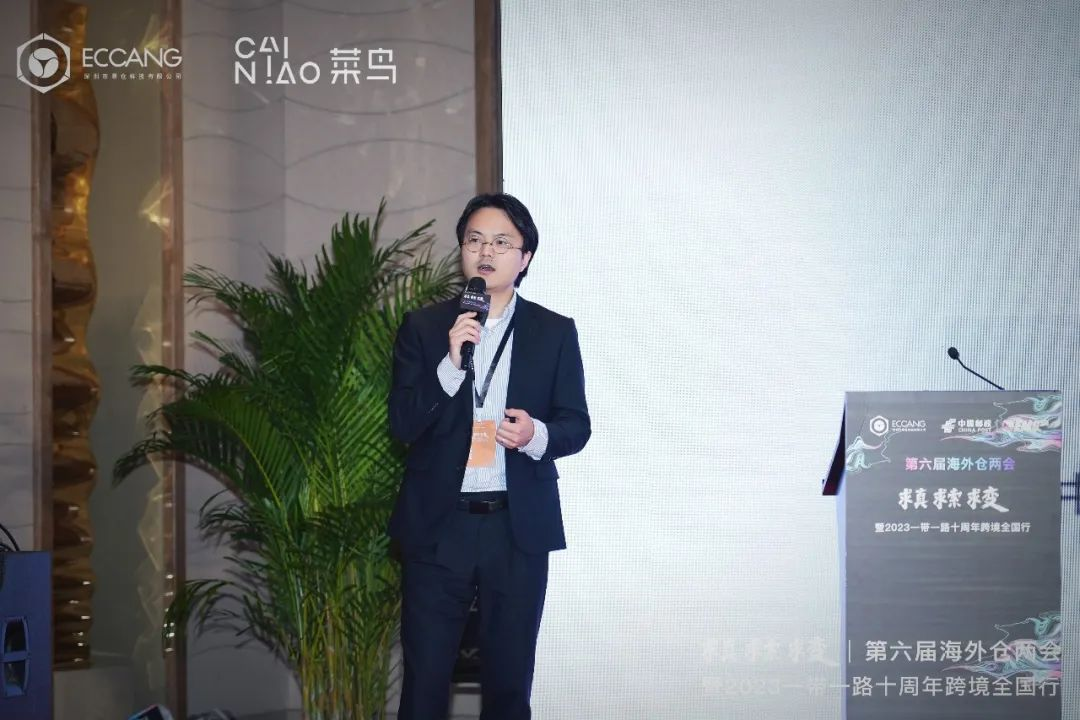 Alex, the director of 36Kr Global Research Institute,
In a changing era, technology is innovating. Currently, with the advent of Chat GPT, the topic of digitalization and intelligence assisting cross-border enterprises in innovation and achieving cost reduction and efficiency enhancement is receiving widespread attention. Li Kaiheng, Deputy General Manager of DingTalk's Yangtze River Delta Branch, brought a keynote speech on "Digital Inclusion Promotes Innovative Organizational Capability of Enterprises" from the perspective of enterprise organization. He said: "The construction of digital capacity building consists of two aspects: organizational digitization and business digitization. True digitalization helps companies cross the cycle. Let's return to our original aspiration in the face of market uncertainties and fierce competition, build our organizational capabilities, and build our digital capacity."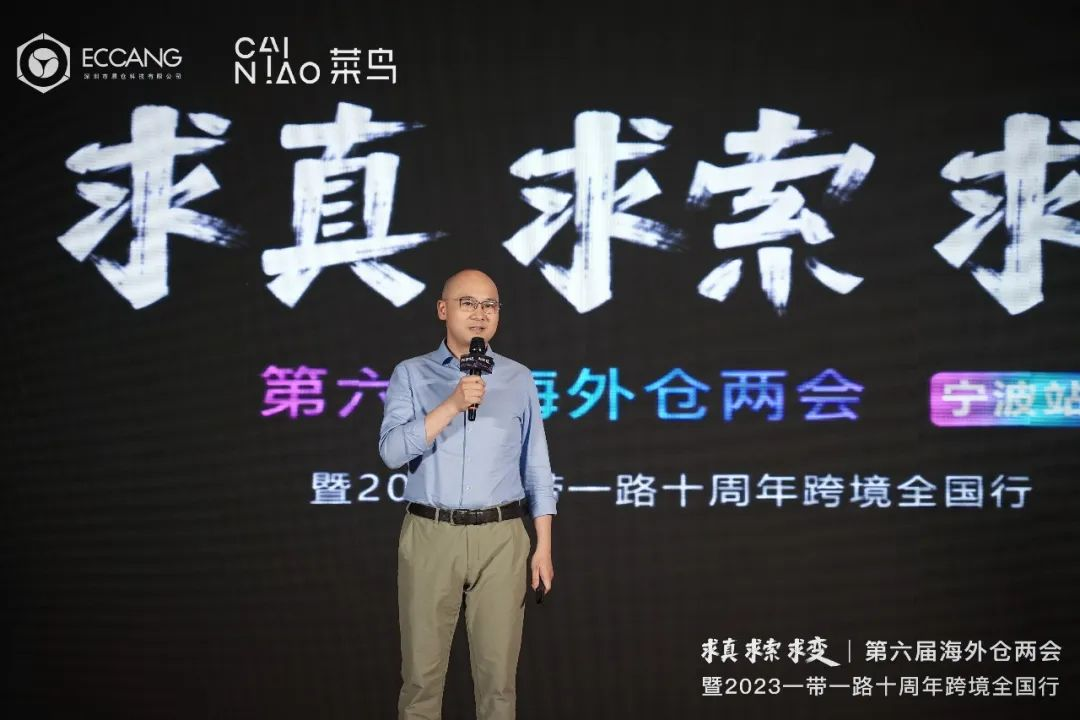 Li Kaiheng, Deputy General Manager of DingTalk's Yangtze River Delta Branch,
Cross-border e-commerce is evolving, and made in China is upgrading. Along with this, the transformation of factories is also being mentioned more and more frequently. Today, Yu Xiongwei, Chairman of Ningbo Geli Optoelectronic Technology Co., Ltd., brings "New Foreign Trade Channels for China's Small Factories" to everyone. He uses frontline practical experience and case studies to tell everyone how to improve user experience by extending the product delivery chain, how to integrate small factories and the talent and cultural conflicts faced by broad foreign trade, and how to make differentiated advantages through the close combination of overseas factories and warehouses. He said: "We should do our own thing and walk our own path. We may walk slower during difficult times and faster during favorable times, but we must be clear about our direction. If there are ideas in a situation that is not too biased, then go ahead and do it. Because when you start running, you will gradually find your own answers and then adjust your posture."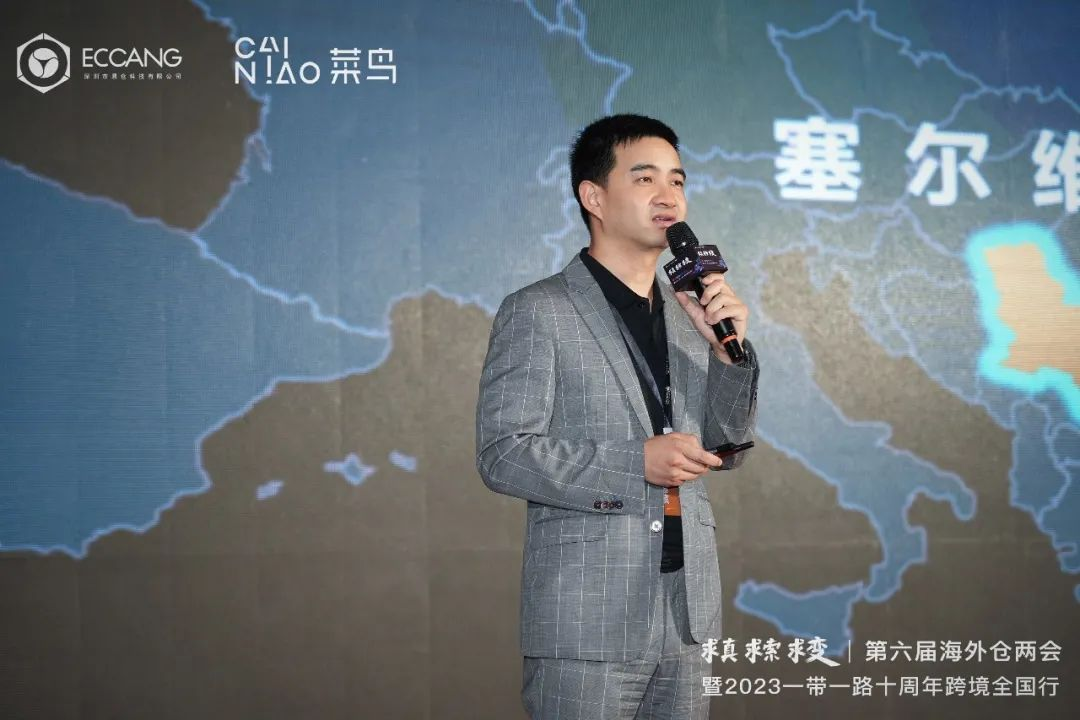 Yu Xiongwei, Chairman of Ningbo Gelilight Technology Co., Ltd.
Later, at the supply chain roundtable, Kang Shan, general manager of the East China region of YiCang Technology Group, led the seller representatives from different regions such as Shenzhen and Ningbo to have a heated discussion on the topic of "how to break through the supply chain upgrade to drive business growth" based on the characteristics of different regions. The seller representatives expressed their opinions on supply chain cost control, supplier management, and the establishment of a supply chain talent system. They unanimously agreed that improving core competitiveness, including changes in product categories, supply chain control capabilities, and refined operations, is a long-term issue for enterprises.
From left to right: Kang Shan, General Manager of the East China Region of YiCang Technology Group, Yang Yi, VP of the Cross-border Department of Guangbo Group, and Leo, Chairman of Foshan Feiling.
Break through geographical barriers and collide with ideas. This conference also invited Leo, the chairman of Foshan Feiling, an excellent seller of large household items, to talk about how to reduce costs and improve efficiency in the supply chain from the perspective of procurement. He shared, "Procurement is the 5Rs, which means delivering the right goods at the right time, at the right price, at the right quality, and to the right place. Procurement requires more open collaboration. The first step in procurement is to make a cake, from focusing on price to focusing on overall profit, and the relationship with suppliers should move quickly from a transaction level to a relationship level. Only by turning all partners into roles in a cooperative alliance can you make the cake well and make it bigger. But one important point is: where is the cake? Is it in the 3% reduction given by the supplier, or in the planned inventory, logistics, service, technology, and cost? This is something that procurement and the boss need to think about."
Leo, Chairman of Foshan Feiling
Compliance with finance and tax regulations is the way to expand overseas business. As the tax work enters a new stage, where is the way out for cross-border e-commerce enterprises? How to get tax refunds and avoid risks? With these questions in mind, Tang Jianhua, a BusinessDialogue dolphin star lecturer and financial and tax expert, shared the latest policies and practical methods for tax refund. He said, "Tax security is the way for you to go further and more steadily. To some extent, the cost of cross-border compliance is extremely low, and it can also become a part of enterprise competitiveness. When doing cross-border compliance, we should consider five dimensions (goals, stages, business, equity, and tax) and seven measurement standards (equity structure, fund flow, logistics, contract, invoice flow, information flow, and pricing)."
Tang Jianhua, a BusinessDialogue dolphin star lecturer
In addition to the rich sharing of various big names, the sixth Overseas Warehouse Conference in Ningbo also prepared many exciting activities. In the resource docking area, 15 high-quality cross-border resources came to communicate with seller audiences. At the same time, the online resource platform was also launched synchronously. Sellers only need to click "post requirements" to publish their needs and can be contacted by service providers who have passed the audit. The exhibition area at the venue also set up a treasure hunt check-in point. Many viewers started the treasure hunt mode and received valuable gifts at various check-in points and returned home with a full load. In addition, at the high-end resource docking dinner, everyone not only found the desired resources but also received multiple rounds of lottery prizes!
The wonderful event has come to an end. The first stop of the 6th Overseas Warehouse Conference, Ningbo Station, has successfully concluded. Next, the 6th Overseas Warehouse Conference, which spans the whole country, will go to cities such as Tianjin, Qingdao, Chengdu, Zhengzhou, Dongguan, and Xiamen.
Like what you're reading? Subscribe to our top stories.
We will continue to update BusinessDialogue; if you have any questions or suggestions, please contact us!
Was this article helpful?
93 out of 132 found this helpful