Overseas warehouse market analysis report at your fingertips! Unlock the solution to the overseas warehouse breakthrough
Get the overseas warehouse analysis report now for a breakthrough solution

With the rapid development of cross-border e-commerce industry, overseas warehouses have emerged. However, behind the rapid development, potential risks have gradually emerged: the impact of the epidemic, the shock of the economic environment, difficult cost control, and intense market competition… all remind us to think about what opportunities the future of overseas warehouses will bring.
Based on this, this time we will bring you an industry report with rich content covering the current status analysis of popular overseas warehouse markets, research on hundreds of logistics companies, analysis of overseas warehouse competitive pressures, and response plans, etc., to help everyone explore new opportunities for development and find a way out.
Global Overseas Warehouse Status
In 2022, the cross-border e-commerce industry and related industries ushered in a low point in the industry cycle. The epidemic continued, the Russian-Ukrainian war, and inflation, like a huge dark cloud, hovered over all overseas warehouse companies. Both the fiercely competitive North American market, the large-scale European market, and the emerging Southeast Asian, Latin American, Middle Eastern and other markets have been impacted. More and more service providers are thinking about how to go against the tide and cross the cycle.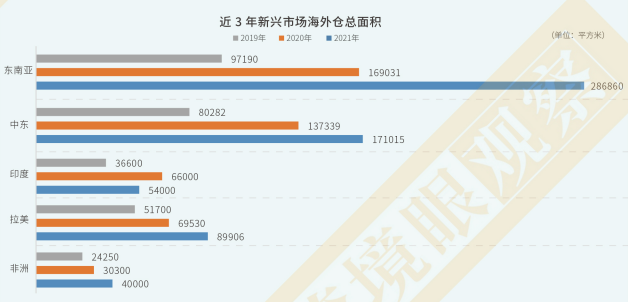 According to the data collection instructions of this report, as of December 2021, the top ten countries with the largest number of overseas warehouses are the United States, the United Kingdom, Germany, Japan, Australia, Canada, Russia, Spain, France, and Italy, with a total of 1810. The data released by the Ministry of Commerce on December 30, 2021, showed that the number of China's overseas warehouses exceeds 2,000, from which we can infer that third-party overseas warehouses are booming.
From the perspective of warehouse area, in the past three years, except for India, the total area of overseas warehouses in Southeast Asia, the Middle East, Latin America, and Africa has shown a growing trend, while the average single warehouse area has remained basically the same. At the same time, Southeast Asia's e-commerce market is mixed. In addition to sellers on platforms like Shopee and Lazada, independent websites, single-page COD sellers, and multi-platform sellers are developing rapidly, and at present, a multi-warehouse linkage model including domestic central warehouses, overseas warehouses, and bonded warehouses and Southeast Asia distribution warehouses has basically formed.
Research on the costs of cross-border e-commerce logistics enterprises
With the increasingly severe situation of the cross-border e-commerce logistics industry, cross-border logistics enterprises will face more uncertain factors in terms of costs. In such a situation, how should enterprises conduct cost optimization? Which methods are the most effective? What resources do enterprises need most? These are the answers we need to find.
Therefore, ECCANG TMS & WMS market team conducted a questionnaire survey of nearly 100 cross-border logistics enterprises, collecting research data from air transport, sea transport, and overseas warehouses, to help more cross-border logistics enterprises have a clearer understanding of the cost changes in the industry in this uncertain market, seize opportunities, improve themselves, and achieve cost optimization, and go further in the cross-border logistics industry.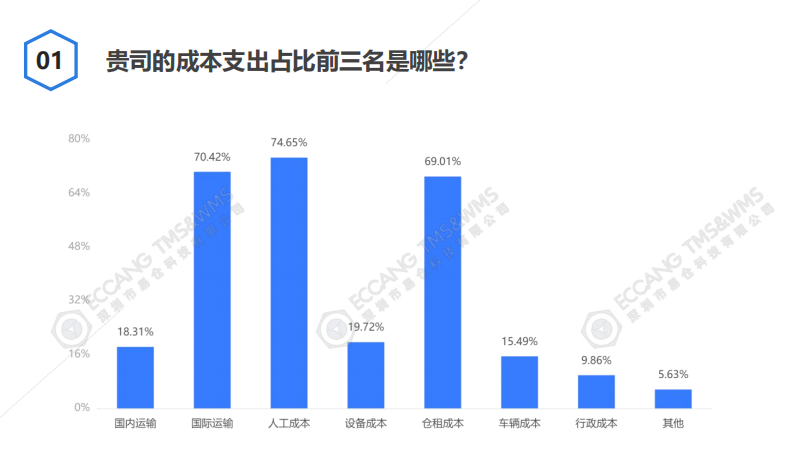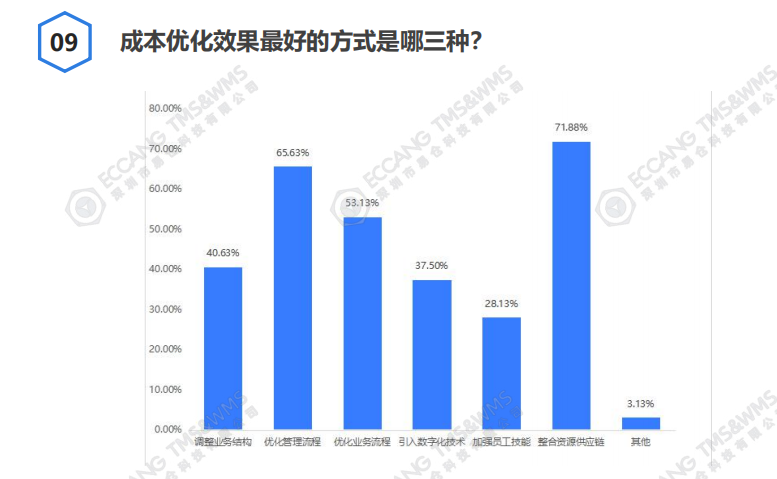 Analysis of competition pressure in overseas warehouses and enterprise countermeasures
Since 2022, the global economic landscape has been turbulent, and cross-border e-commerce and the entire industry chain have also been affected, with a slowing growth trend and industry and market development falling short of expectations. Overseas warehouse enterprises must identify key sources of competitive pressure and find corresponding breakthroughs in order to survive in the environment of industry depression.
To this end, the ECCANG TMS&WMS marketing team conducted research and wrote the "2022 Analysis of Competitive Pressure on Overseas Warehouses and Business Response Plan Report". Through research on hundreds of overseas warehouse enterprises, we have identified the main sources of pressure in 2022 and interviewed multiple enterprises that have been deeply involved in overseas warehouses for many years to jointly explore response plans and provide reference and suggestions for overseas warehouse enterprises.
Data source: "2022 Overseas Warehouse Blue Book" Business Dialogue Observation x ECCANG TMS&WMS joint production
It is also worth noting that in this survey, only 7.41% of overseas warehouse enterprises chose "the development trend of overseas warehouses is not optimistic". In combination with the research data on the planned expansion of warehouses mentioned above, currently the vast majority of overseas warehouse enterprises still believe that the development trend of overseas warehouses is good, and the market potential is huge, but they may face competition pressure from multiple aspects.
In addition to the huge dividends waiting to be explored behind the rapid development of overseas warehouses, actively thinking about the future, foreseeing crises, is also the mentality that every cross-border e-commerce practitioner needs to have. This content also hopes to provide some assistance for everyone.
Scan the QR code below to get more information on the current situation of the overseas warehouse market in popular regions such as Europe, America, Southeast Asia, Latin America, overseas warehouse cost analysis, and other related content for free.
Like what you're reading? Subscribe to our top stories.
We will continue to update BusinessDialogue; if you have any questions or suggestions, please contact us!
Was this article helpful?
93 out of 132 found this helpful