How is the development of cross-border e-commerce market in Southeast Asia? Overview of e-commerce platforms in Southeast Asia
Overview of cross-border e-commerce market and platforms in Southeast Asia
With the increasing popularity of the internet and mobile phones, the e-commerce market in Southeast Asia is experiencing rapid growth. This trend has driven the development of the local e-commerce industry and has also attracted more and more international e-commerce platforms to enter the market. Below, let's take a look at the relevant situation in the Southeast Asian market.
Development of Southeast Asian E-commerce Market
As the market penetrates more quickly, Southeast Asian e-commerce platforms are shifting their focus from customer acquisition to improving user stickiness and order value. It is expected that by 2025, e-commerce will continue to drive the overall development of the Southeast Asian Internet economy with a compound annual growth rate of 18%. As online shopping gradually becomes the daily consumption method for people of all ages and regions (urban and non-urban), by 2030, e-commerce will contribute more than two-thirds of the total GMV of the Internet economy.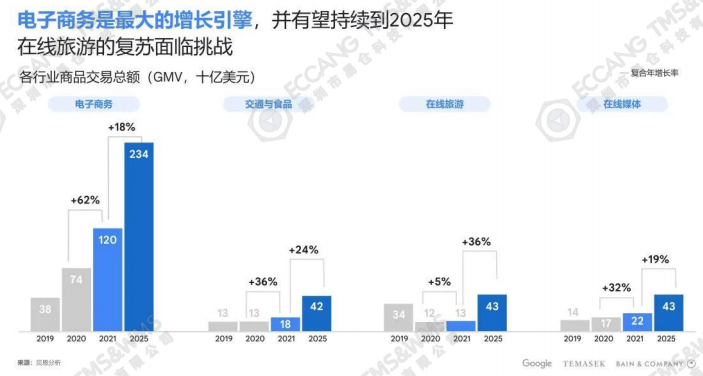 However, compared with mature e-commerce markets such as China (24.9%) and the UK (19.3%), the e-commerce penetration rate in the Southeast Asian e-commerce market is less than 5%, indicating a potential for 8-10 times growth. In addition to the large market size, the RCEP's entry into force greatly reduces the cost of cross-border e-commerce sellers going overseas. The improvement of the business environment in various Southeast Asian countries and changes in consumer behavior under the impact of the pandemic have led to the continuous improvement of e-commerce infrastructure including logistics and warehousing, which further accelerates the development of local cross-border e-commerce and greatly promotes the significant growth of Chinese sellers.
Regarding the penetration rate of the internet, the total number of internet users in six Southeast Asian countries, including Indonesia, Malaysia, Philippines, Singapore, Thailand, and Vietnam, was approximately 440 million in 2021, with 40 million new users added. The internet penetration rate has increased from 70% last year to 75%.
Southeast Asian Cross-border E-commerce Platform Overview
Southeast Asia has many local e-commerce platforms, among which Shopee, Lazada, and Tokopedia are the three most popular e-commerce platforms in Southeast Asia. They not only sell a wide variety of products, but also have the highest market share. Amazon's influence in Southeast Asia is much smaller compared to mainstream regions such as Europe and the United States. Since its launch in Singapore in 2019, Amazon's market share in Southeast Asia still lags behind other local e-commerce platforms.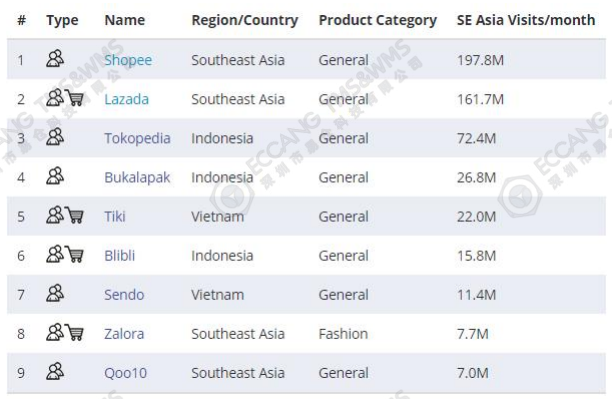 Data Source: BusinessDialogue Report "2021 Cross-border E-commerce Global E-commerce Platform Analysis"
Shopee is the largest e-commerce platform in Southeast Asia, but it focuses more on the Indonesian market. Shopee has 198 million monthly visits, and in addition, its GMV reached 62.5 billion US dollars in 2021, a year-on-year increase of 76.8%, with a total of 6.1 billion orders, a year-on-year increase of 116.5%.
Lazada is similar in size to Shopee, but it focuses more on the Thai and Philippine markets. Lazada has 162 million monthly visits, and its monthly active sellers on the platform reached 922,000. At Alibaba's 2021 Investor Day, Lazada announced its GMV from September 2020 to September 2021, which exceeded 21 billion US dollars (approximately 134 billion yuan).
The third and fourth ranking e-commerce platforms, Tokopedia and Bukalapak, as well as the sixth-ranked Blibli, only serve the Indonesian market. All three sell a variety of goods, with a total monthly visit of 115 million from Southeast Asia.
Tiki and Sendo mainly serve the Vietnamese market, with 22 million and 11.4 million monthly visits, respectively. Although the Vietnamese economy is relatively weak, it has the fastest growth rate.
Zalora is the only Southeast Asian e-commerce platform specializing in fashion apparel. Its monthly visits reach 7.7 million. Fashion is the most popular category in the Southeast Asian e-commerce market, accounting for 27% of total sales. The last-ranked e-commerce platform is Qoo10, with 60% of its traffic coming from Singapore.
The above is an introduction to the Southeast Asian e-commerce market and various platforms. If you want to learn more about the overseas warehouse market trends and cost analysis in popular regions such as Europe, Southeast Asia, and Latin America, you can scan the QR code below to get it for free.
Like what you're reading? Subscribe to our top stories.
We will continue to update BusinessDialogue; if you have any questions or suggestions, please contact us!
Was this article helpful?
93 out of 132 found this helpful