USPS GROUND ADVANTAGE Explanation
USPS Ground Advantage Explanation
This article will provide a detailed analysis of the features and advantages of USPS Ground Advantage.
Starting from July 9, 2023, USPS will launch a new service called USPS Ground Advantage™, providing shippers with an economical and reliable domestic ground transportation option.
The goal of this service is to simplify ground transportation services by merging USPS Retail Ground®, First-Class Package®, and Parcel Select Ground® services, as well as First-Class Package Return® and Ground Returns return options, into a unified service.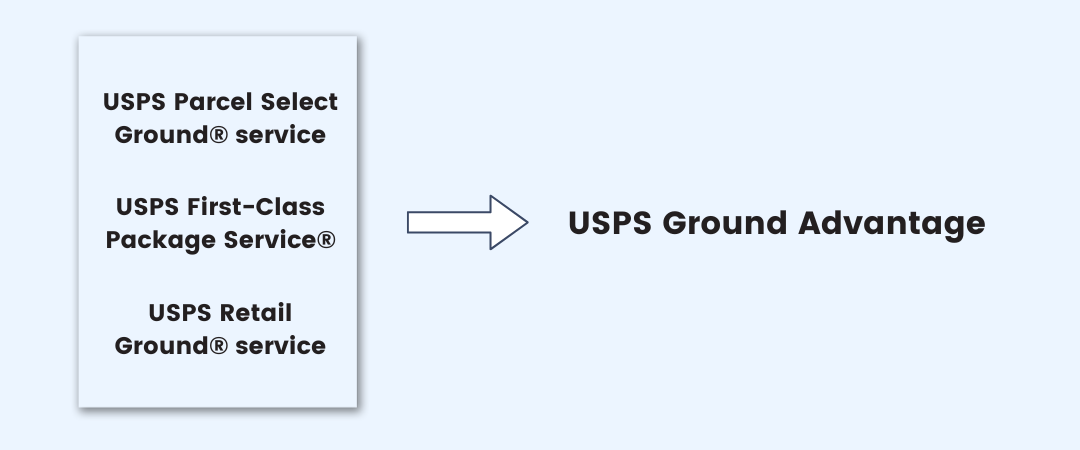 Advantages of USPS Ground Advantage
USPS Ground Advantage™ is suitable for shippers of all sizes, whether small e-commerce businesses or large enterprises, and can benefit from this economical and reliable shipping option. This service is applicable to packages weighing up to 70 pounds and can deliver packages to their destination within 2-5 business days.
The launch of this new service brings many advantages to shippers. First of all, USPS Ground Advantage™ provides an affordable shipping option that delivers packages to all 50 states, U.S. military bases, territories, possessions, and freely associated states in the United States at a low price. No matter where your package needs to be shipped, USPS Ground Advantage™ can meet your needs.
Secondly, the merged services of USPS Ground Advantage™ simplify shippers' operations. By merging different services into one option, shippers no longer need to select and operate different service types, saving time and effort.
In addition, USPS Ground Advantage™ also provides return options, including First-Class Package Return® and Ground Returns services. This provides shippers with a more convenient return process, improving customer satisfaction and operational efficiency.
In summary, USPS Ground Advantage™ has the following features:
Delivery within 2-5 working days

Provides the best price for packages weighing no more than 15.99 ounces based on weight and distance

Packages weighing more than 15.999 ounces are charged by the pound, with a weight limit of up to 70 pounds

Provides free package pickup service

Includes package tracking service

Includes $100 insurance (for outbound and return), with the option to purchase up to $5,000 in additional insurance
In addition, compared to current Parcel Select Ground and First-Class Package Service pricing, USPS Ground Advantage prices will decrease by 1.4%. USPS Ground Advantage retail prices will decrease by 3.2%, and USPS Ground Advantage Commercial prices will decrease by 0.7%.
Overall, USPS Ground Advantage™ is an exciting new service that provides shippers with an affordable and reliable ground transportation option. Whether you are a small e-commerce business or a large enterprise, this service offers low prices and fast package delivery.
If you would like to learn more about this service, please visit the official USPS page prepared for Ground Advantage service.
Like what you're reading? Subscribe to our top stories.
We will continue to update BusinessDialogue; if you have any questions or suggestions, please contact us!
Was this article helpful?
93 out of 132 found this helpful