Cross-border Weekly Report | How did China's Four Little Dragons Going Global cause a storm? Shein, TikTok
China's Four Little Dragons Going Global caused a storm with Shein and TikTok
Over the past week, there have been a series of major events in the global cross-border e-commerce industry. What new initiatives have the "four little dragons" of Chinese e-commerce taken? What impact might this have on cross-border sellers? Let's take a look together!
Shein officially announces a new platform model, launching first in the US market
After its debut in Brazil, Shein Marketplace plans to expand on a larger scale globally and will launch first in the US this week.
Shein announced that the platform will allow local and international third-party sellers to sell products alongside its own on its brand website, meeting the growing demand for product diversity from consumers.
For sellers, Shein Marketplace will provide real-time insights, an established customer base, product fulfillment infrastructure, and exposure to market and social channels. For cross-border sellers, this undoubtedly opens up a new sales window, potentially bringing new business opportunities.
TikTok undergoes major adjustments, full-service mode will bring new opportunities
In the face of continuous expansion and adjustments from Shein and Temu, TikTok has also launched a new move.
It has been reported that TikTok will launch a new model similar to the "full-service store" model of AliExpress and Temu, in which the supplier provides goods to the platform, while the platform is responsible for store traffic and operations.
For merchants who are not good at operations, this is undoubtedly a more convenient mode of going global, but the profits and rule restrictions behind it cannot be taken lightly. Many Temu sellers are still losing money.
Amazon's Competitor TikTok Inspire Opens to All American Users
Recently, Amazon announced that its new feature Inspire has been launched to all users in the United States. This feature combines the advantages of TikTok and Instagram, supporting the push of image and video information flow, allowing users to discover products of interest in personalized displays and achieve a shopping experience of browsing and buying at the same time.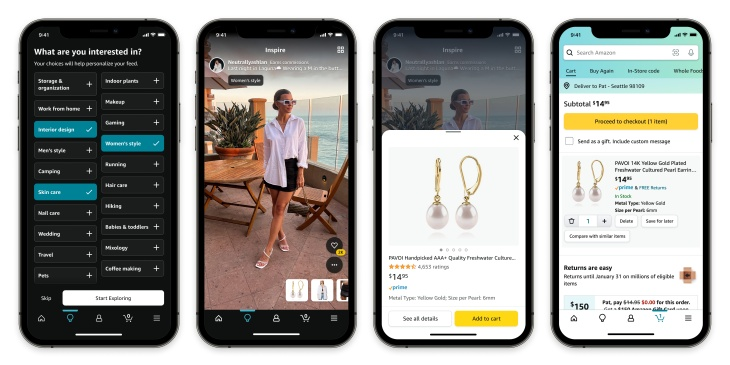 For cross-border sellers, Inspire is a good opportunity to seize the traffic dividend. In the future, the competition in the field of social e-commerce will be even more fierce, and sellers can also choose suitable platforms to enter the social e-commerce according to their own product characteristics.
Alibaba Invests $2 Billion in Southeast Asia
Alibaba is investing $2 billion in Southeast Asia to support the growth of e-commerce and digital payments in the region.
Alibaba is already an important participant in Southeast Asia, with platforms such as AliExpress and Lazada. This large-scale investment will further expand its influence in the region. For cross-border sellers, Alibaba's move may open up new opportunities for them to enter the Southeast Asian market, and also indicates that competition in this region will further intensify.
In summary, global e-commerce giants are actively deploying their strategies to promote the development of cross-border e-commerce industry.
For cross-border sellers, this means more market opportunities, but it also brings greater competitive pressure. Sellers need to closely monitor these changes and be prepared to find new business opportunities in this rapidly changing market.
Like what you're reading? Subscribe to our top stories.
We will continue to update BusinessDialogue; if you have any questions or suggestions, please contact us!
Was this article helpful?
93 out of 132 found this helpful