Rogue law firm fights back! Files 11 lawsuits in a row for patent infringement, whoever sells these products will suffer!
A rogue law firm files 11 consecutive patent infringement lawsuits, warning that anyone selling the products in question will face consequences
Recently, major law firms have all targeted patents. According to incomplete statistics, in less than half a month, 11 patent infringement lawsuits have been filed, involving multiple categories such as home furnishings, fitness equipment, and outdoor supplies. Sellers who sell the same product must hurry to conduct self-inspection, otherwise they will face the risk of being sued and frozen.
①Condiment Holder
A condiment rack that can be used in a car, similar in shape to a cup holder, can be clipped smoothly on the car's ventilation vent, even if the brakes are applied, there is no need to worry about spilling ketchup and other condiments. After the product was launched, it received more than 50 million views on various social media platforms, which was quite popular.
The brand owner, Milkmen Design LLC, sued for infringement as early as February 13th, but the case has been in hiding until recently. The case number is 23-cv-877 and is represented by Flener IP Law, LLC.
The design and invention patents for this product have been registered and are easy to infringe upon, so sellers who sell related products should be more careful:
②REFLECTIVE HYDRATION BACKPACK
The brand owner Seventh Coast Ventures LLC mainly designs and sells various festival, carnival, and outdoor activity accessories. The main purpose of the two consecutive cases is to protect the rights of its reflective water bag backpack. The case is represented by Sriplaw law firm, with case numbers 22-cv-4474 and 22-cv-1081.
Trademark infringement and patent infringement are the infringement risks here.
The textual trademark SOJOURNER BAGS is registered in the 18th category of luggage and bags. Sellers who sell related products should avoid using it:
SOJOURNER is also a registered trademark, covering categories such as nail art, sunglasses, jewelry, backpacks, household goods, clothing and hats, and other categories. It is also necessary to pay attention to avoiding infringement:
The patent infringement involves a US design patent named REFLECTIVE HYDRATION BACKPACK, with patent number USD866167S:
③BELLABOOTY
The Bellabooty belt can perfectly fit your buttocks, has a soft lining to protect your buttocks, and has a handle to secure the belt in place. It can prevent soreness in the buttocks and enable efficient and comfortable buttock push exercise.
▼Examples of publications
On May 10th, the brand owner, Believe Pursue LLC, filed a lawsuit for infringement with case number 23-cv-2935, represented by THOITS LAW firm, mainly accusing trademark infringement and patent infringement.
The text trademark BELLA BOOTY is registered in Class 28 fitness equipment and cannot appear on the listing.
In addition, the brand owner has registered a US design patent for the product. If the product you sell is highly similar to it, there may be a risk of infringement.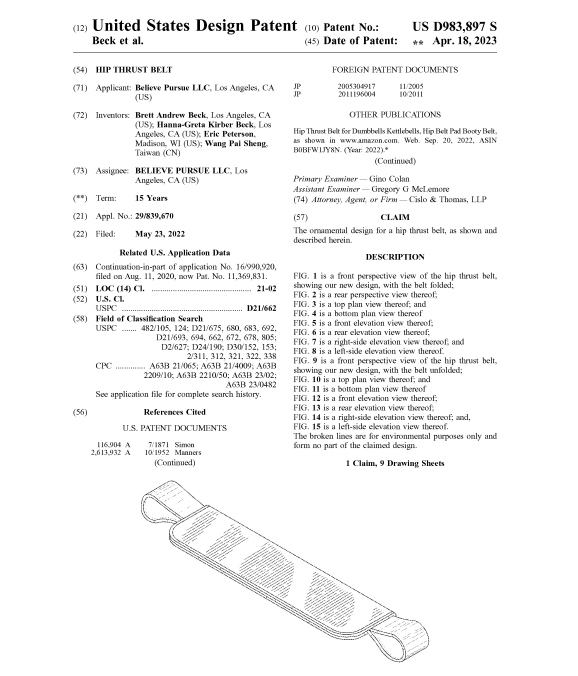 ④Barbell Pad
The Barbell Pad is a squat pad designed to evenly distribute the weight on the shoulders and relieve neck pressure during squats.
Plaintiff Jianbin Luan filed a patent infringement lawsuit on May 7th, represented by Jared W. Gasman, P.A., case number 23-cv-60848, primarily alleging patent infringement.
Related U.S. design patents:
⑤Corner Desk
A common general purpose computer desk on the market. The brand, Gold Wing Trading Inc., filed a patent infringement lawsuit on May 7th, represented by Jared W. Gasman, P.A., case number 23-cv-60849, primarily alleging patent infringement.
The corresponding U.S. design patent was granted in November 2021, patent number USD936393S:
⑥ Neck and Shoulder Massage Pillow
In early January of this year, a neck and shoulder massage pillow was sued for infringement. Unexpectedly, another product was sued for infringement after four months. Both were Chinese plaintiffs suing for infringement of appearance patents, and were represented by NI, WANG & MASSAND, PLLC law firm.
▼ Neck and shoulder massage pillow sued for infringement in early January
The case of infringement was filed on May 4th. The plaintiff is Chengdu Jiechen Technology Ltd Co, and the case number is 23-cv-02823. The US appearance patents involved are as follows:
⑦Water Rocket
Water Rocket is a water jet nozzle used for cleaning the eaves of family homes. The unique design, combined with high-pressure nozzles, can easily pass through the eaves and easily remove leaves and wood chips.
The brand owner Baziuk Holdings, Ltd filed a lawsuit for infringement on April 26, represented by Flener IP Law, LLC, with case number 23-cv-2583, mainly accusing trademark infringement, patent infringement, and copyright infringement.
Water Rocket is already a registered trademark:
The brand owner has also registered a US design patent for the product, with the patent name "Nozzle for a garden hose" and patent number USD729901S:
Although the complaint mentions copyright infringement, the specific copyright pattern has not been made public. It is recommended that no one should use any content on the official website without authorization to avoid any legal issues.
In addition to the above products, there have also been recent lawsuits for patent infringement on products such as emergency choking devices and SoClean disinfection devices, with two cases filed in succession. The relevant case information has been shared by Jitu, and if anyone is not familiar with it, please leave a message.
Patent infringement directly targets products, almost always hitting the target. Sellers must conduct thorough searches and comparisons before selecting or listing products to avoid unknowingly breaking the law. If you want to know whether your product has any infringement risks, or if you need professional infringement resolution services, please contact Jite for consultation~
Like what you're reading? Subscribe to our top stories.
We will continue to update BusinessDialogue; if you have any questions or suggestions, please contact us!
Was this article helpful?
93 out of 132 found this helpful