eBay's refurbished product plan is open on six major sites, ushering in new opportunities for green economy
eBay offers refurbished products on six major sites, promoting green economy opportunities
In recent years, global consumer awareness of environmental sustainability has been increasing, driving changes in market demand. The global sustainable consumption market is rapidly developing, with sales of second-hand and refurbished goods increasing. According to a report by the global authoritative research company IDC, the second-hand mobile phone market is estimated to grow at a compound annual growth rate of 11.2% to reach 350 million units and a scale of approximately 65 billion U.S. dollars by 2024. High-quality refurbished products that meet environmental protection concepts and have high cost performance are increasingly recognized by eBay consumers.
The eBay Refurbished Program (hereinafter referred to as eBay Refurbished) is continuing to lead the consumption of second-hand goods. While responding to environmental protection concepts, eBay Refurbished makes it easier for consumers to find the second-hand goods they are satisfied with on eBay. 65% of surveyed eBay buyers said that eBay Refurbished allows them to buy top-brand products for less money.
For consumers
eBay Refurbished allows consumers to purchase brand products that are of great value and have official guarantees while meeting the requirements of environmental consumption.
For sellers
Participating in the eBay Refurbished Program allows sellers to revitalize products that can be reused and resold, reduce inventory pressure, and achieve profits.
eBay Refurbished Program
Open sites: United States, Germany, United Kingdom, France, Italy, Canada
Targeting two types of refurbished product sellers
★ Brand official certified refurbished (Certified Refurbished)
This type of product is authorized and refurbished by the brand or manufacturer, and the product condition is almost new. Products include but are not limited to mobile phones, tablets, computers, audio-visual equipment, home appliances, power tools, and other categories.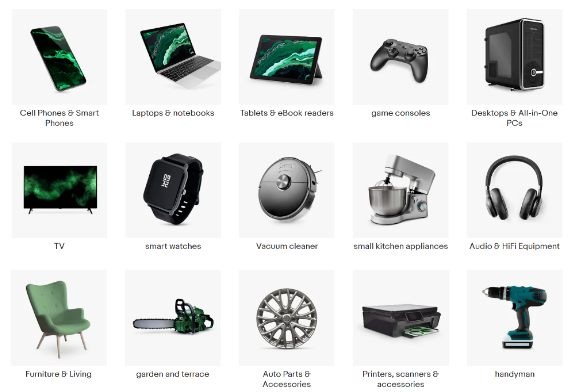 eBay encourages brand owners to join the Certified Refurbished official certification for refurbished products. Chinese brands that have joined the program include Tineco, UMIDIGI, Anker, Roborock, etc.

★ Seller Refurbished
These products are refurbished by the seller or a third party with refurbishing qualifications and come with free delivery and 30-day free return service. These products are divided into three levels based on wear and tear: Excellent (almost new), Very Good (slightly worn), and Good (moderately worn).
Only sellers who meet quality and performance standards are eligible to participate in the eBay refurbished products program. Products include but are not limited to mobile phones, tablets, computers, audio and video equipment, home appliances, power tools, and other categories.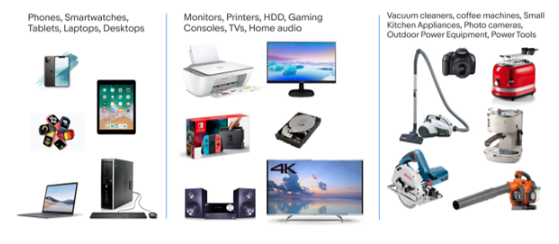 All products certified by the eBay Refurbished Products program will receive an exclusive label, which will be displayed in the following areas:
① Buyers can enter the eBay Refurbished area through the eBay site homepage
② Buyers can easily find eBay Refurbished certified products in search results through exclusive labels
③ By setting filters, buyers can quickly find eBay Refurbished certified products
④ Buyers can find the exclusive label for eBay Refurbished certification in the listing details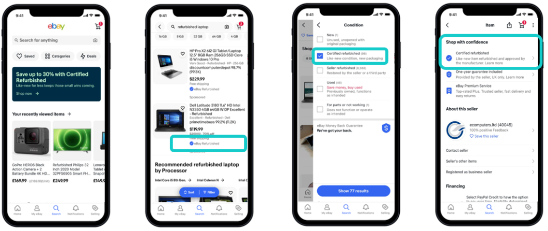 Meanwhile, eBay will have corresponding off-site promotion and on-site activities support for eBay Refurbished products.

We look forward to more Chinese sellers joining the eBay Refurbished product program and seizing the business opportunities of the global refurbishment trend. Intending brand or enterprise sellers can contact the email DL-eBay-CBT-Refurb_Program@ebay.com.
Like what you're reading? Subscribe to our top stories.
We will continue to update BusinessDialogue; if you have any questions or suggestions, please contact us!
Was this article helpful?
93 out of 132 found this helpful