Chinese sellers of used engineering machinery equipment are presented with a new opportunity to expand internationally eBay has launched a quality verification program for used heavy equipment
eBay's new quality verification program for used heavy equipment presents a new opportunity for Chinese sellers of engineering machinery to expand internationally
eBay has launched the Verified Condition program for second-hand heavy equipment. This is another new initiative to enhance the confidence of both buyers and sellers in the market and stimulate market vitality, following the Guaranteed Fit program for automotive parts, the Authenticity Guarantee program for sports shoes, star cards and luxury goods, and the refurbished program for second-hand goods.
In recent years, the heavy equipment industry has developed rapidly. Due to the surge in demand, supply chain constraints, and delays in the production of new products, the sales of second-hand heavy equipment have grown rapidly. At the same time, the way consumers purchase second-hand heavy equipment is changing, with more and more buyers turning to e-commerce models that can provide more choices, more value, and greater convenience.
As one of the earliest, largest, and most comprehensive online one-stop markets for heavy machinery and related products in the world, eBay helps global cross-border sellers enter this blue ocean market with a total value of nearly US$300 billion, with a perfect product line and higher transaction efficiency. In addition to a large number of individual buyers every year, more and more enterprise buyers are also active on the eBay platform, looking for opportunities to purchase and deal in heavy equipment and second-hand heavy machinery.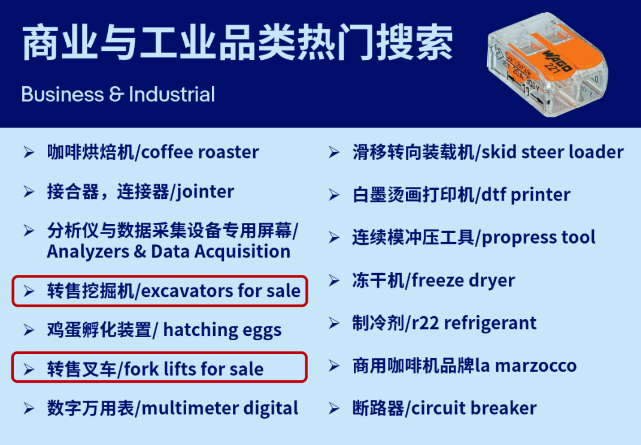 Every spring, as the construction and agricultural and forestry industries start work requiring a large amount of outdoor work, the search volume for (second-hand) engineering machinery and equipment on eBay's US and German sites surges. In the first quarter of 2023, resold excavators and resold forklifts made it to the search rankings on eBay's US site. In recent years, the overall transaction volume of heavy equipment on the eBay platform has shown a stable upward trend. Especially on eBay's US site, the sales of excavators and other heavy equipment have seen a huge increase in sales revenue.
eBay Launches Verified Condition Program
In order to enhance the online selling advantages of eBay's used construction machinery sellers, eBay has launched the Verified Condition Program for used heavy equipment. This program will provide professional appraisal reports for used heavy equipment, including used construction machinery, articulating boom lifts, excavators, wheel loaders and other industrial equipment.
The relevant appraisal reports are provided by bidadoo, eBay's partner and a global leader in used heavy equipment auctions. bidadoo has over 20 years of professional experience in the field of heavy equipment and has formed a strategic partnership with eBay since 2019. Further cooperation between the two parties will attract more professional buyers of global heavy equipment and spare parts.
Used heavy equipment transactions that meet the Verified Condition certification will enjoy the following benefits:
Used heavy equipment certified by eBay's Verified Condition will be granted an exclusive identification mark, indicating that the equipment has been inspected by bidadoo professionals;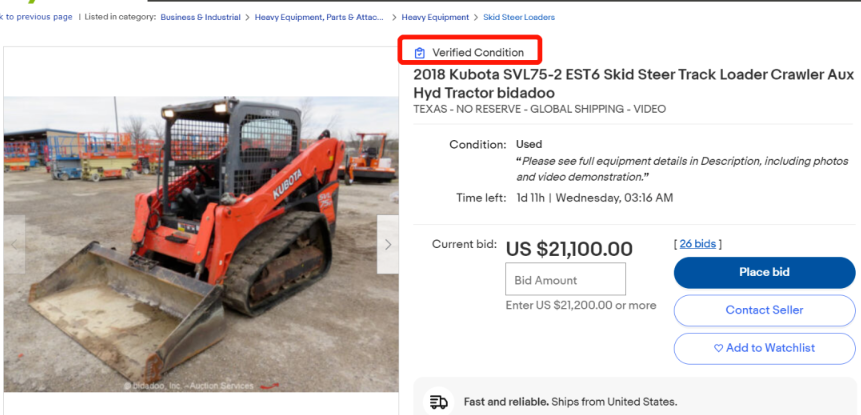 Certified equipment will have an exclusive display page on eBay-Business & Industrial-Heavy Equipment, Parts & Attachments-Heavy Equipment;
Certified equipment can display its detailed equipment condition and five-star rating report in the listing details;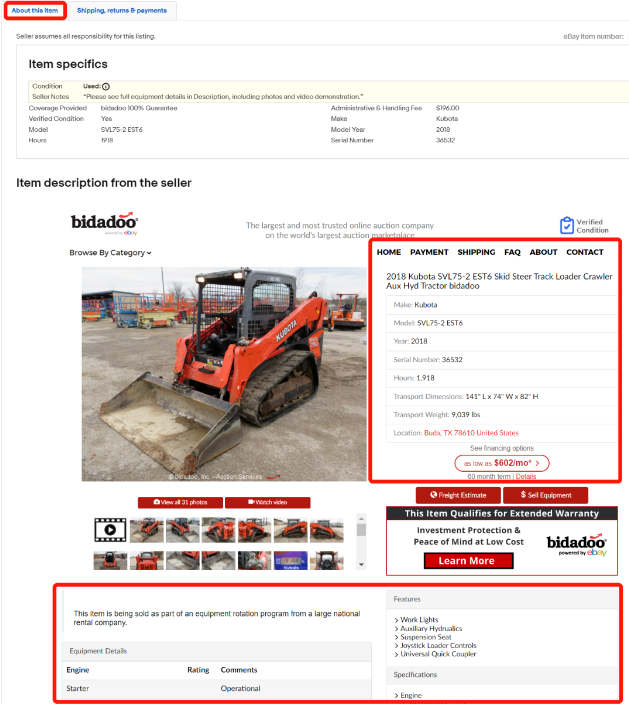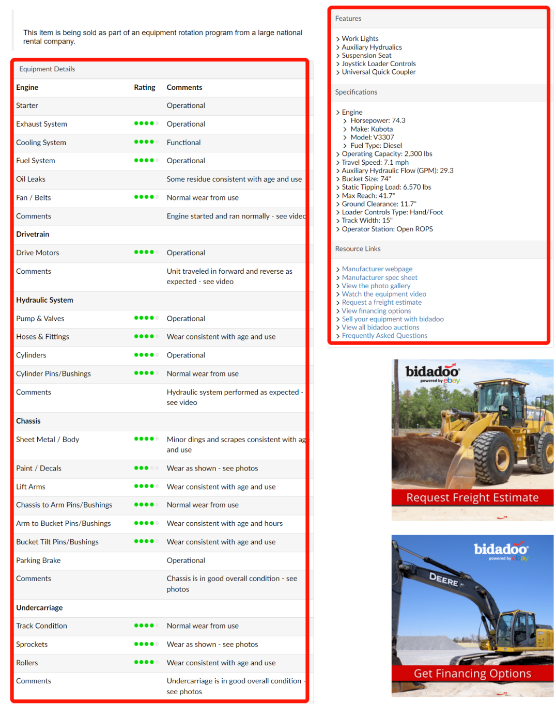 If there are any discrepancies, damages, or malfunctions with the goods upon delivery, buyers can obtain protection through eBay's Business Equipment Purchase Protections (BEPP).
You can visit the following website to learn about eBay's Business Equipment Purchase Protection program (BEPP):
www.ebay.com/help/buying/paying-items/ebay-business-equipment-purchase-protection?id=4637
The process of obtaining Verified Condition
★ Heavy equipment model source:
Partner bidadoo collects a list of heavy equipment models from authoritative dealers, manufacturers, and leasing companies across the United States;
★ Goods inspection:
Bidadoo's professional personnel go to the location of the equipment to verify its condition, function, and specifications;
★ Verification report:
A condition verification report is issued for the equipment, including multiple inspection points such as the body, frame, chain wheel, and paint. The report will be displayed on the equipment's detailed page along with detailed pictures and videos of the equipment;
★ Listing:
Equipment verified by bidadoo will have the eBay Verified Condition logo. Buyers who purchase goods with the eBay Verified Condition certification logo can enjoy free eBay Business Equipment Purchase Protection (BEPP).
Chinese Sellers of Used Construction Machinery
New Opportunities for Going Global
In many countries overseas, the circulation of used construction machinery equipment has already become a mature market. Data shows that the global transaction scale of used construction machinery in 2019 has reached 295.31 billion US dollars, a year-on-year increase of 7.6%; It is expected that by 2025, the annual transaction scale of global used construction machinery will exceed 400 billion US dollars. Among them, the United States and Japan's sales of used construction machinery account for more than 60% of the total global used construction machinery market transactions. At the same time, emerging markets and regions such as Africa, Southeast Asia, and South America have high-speed development in industries such as infrastructure and mining, and have diversified demands for cost-effective used construction machinery equipment.
China is the world's largest production and sales base and stock market for engineering and agricultural machinery. Chinese enterprises and sellers have a good foundation in terms of the performance of their source of goods, price comparisons, supply chain richness, and online operation capabilities. However, the export scale of second-hand engineering machinery equipment in our country is relatively small, and there is still huge room for development. It is predicted that in the future, the export scale of second-hand engineering machinery equipment in China will reach tens of billions of dollars annually, and the market prospects are broad. Driven by the transformation and upgrading of the domestic equipment manufacturing industry, the export of second-hand engineering machinery is expected to become a new blue ocean.
Looking at the eBay US market, the main heavy equipment and representative brands are listed in the table below, which are recommended to be focused on.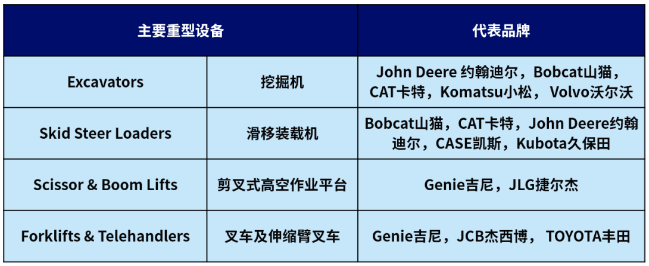 On the eBay platform, sellers of second-hand heavy machinery equipment in China can directly connect with overseas buyers and understand their real needs. They can also complete equipment evaluation, inspection and testing, product pricing and other important links through the latest eBay Verified Condition plan, benchmarking the international market. At the same time, they can also enjoy the after-sales service and protection provided by the platform to promote the confidence of online transactions. This is a new channel and path for Chinese sellers of second-hand machinery equipment to participate in the global machinery equipment market.
Trust is one of the key factors in the online shopping experience, especially when consumers are purchasing high-value items. The launch of the eBay Verified Condition plan is very important for buyers of commercial and industrial categories, as it can help them quickly discover professionally inspected and trustworthy goods, and boost the confidence of both buyers and sellers to facilitate online transactions. The eBay team will continue to provide seamless connection services for every category of transactions on the platform, making online shopping experience simpler and more powerful, and helping Chinese sellers to share the opportunities of global high-potential markets.
Like what you're reading? Subscribe to our top stories.
We will continue to update BusinessDialogue; if you have any questions or suggestions, please contact us!
Was this article helpful?
93 out of 132 found this helpful