Is the hardware and tools category on Lazada and Shopee easy to do? What are the popular product categories?
Hardware and tool categories on Lazada and Shopee - easy or not? Popular products?
In recent years, the domestic electric tool industry has made great progress in technology and craftsmanship, and product quality and performance continue to upgrade. A mature industrial belt has been formed. Along with the continuous improvement of China's manufacturing industry's competitiveness in the world, electric tools have become an important core commodity for our country's foreign trade exports. According to Allied Market Research, the global electric tool market is expected to have a compound annual growth rate of 8.5% from 2020 to 2027, and is expected to reach 39.1477 billion US dollars in 2027.

In Lazada's recent sales data, it is not difficult to find that the purchase popularity of domestic tools in Southeast Asia is also continuing to rise. Starting from the third quarter of 2022, the overall order volume of the tool category began to grow in a step-by-step manner. As of the fourth quarter of last year, there has been a cumulative increase of 45% -50%. Among them, the proportion of single orders in the Philippines and Thailand reached more than 50% of the overall data. Article source: Public Account: Cross-border Master of Going Abroad
Due to the impact of the previous epidemic, consumers have increased their home-based activities, and new hobbies may also be cultivated. The trend of home-based activities will stimulate people to make minor improvements to their home life, thereby overall increasing the demand for such products.

Potential categories: Hardware and plumbing (pipes/faucets, etc.), gardening tools (high-pressure water guns/weed cutters/garden scissors, etc.), electric tools (electric drills/angle grinders/welding machines, etc.)

Best-selling categories: Manual tools (pliers/tool sets/screwdrivers/wrenches, etc.), security tools (doorbells/locks, etc.), measuring tools (measuring instruments/calipers, etc.)
Lazada electric drill case display: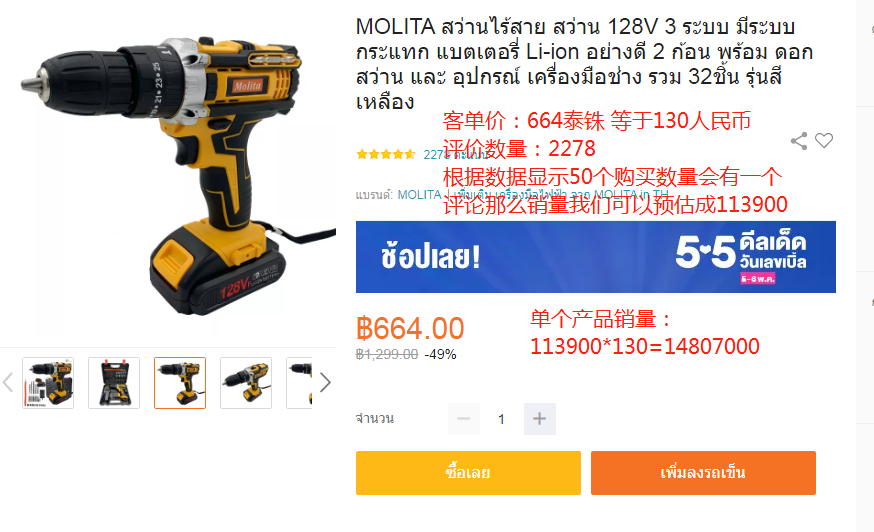 (1) Best-selling products in the hardware and plumbing category

Showerheads (1-8 USD)
Wellgo (2-6 USD)
Faucets (3-20 USD)
Shower sets (20-80 USD)
(2) Power tools
People in foreign countries have strong hands-on ability, and most residents solve their own assembly or repair problems. Therefore, electric drills and wrenches have particularly outstanding sales in Southeast Asia.
Electric drills (10-30 USD)
Welders (30-50 USD)
Angle grinders (30-60 USD)
Electric wrenches (30-60 USD)
Electric saws (25-50 USD)
(3) Gardening tools
Some countries and regions in Southeast Asia still have agricultural economies. In Thailand and the Philippines, consumers have a high demand for water pumps, which are mostly purchased by fruit growers and fishpond owners.

High-pressure cleaning machine (20-60 USD)
Lawn mower (25-50 USD)
(4) Security tools
Smart homes are very popular in Malaysia and Singapore, mainly due to the influence of home living, and people are beginning to change their shopping habits by purchasing smart doorbells, faucets, and other products online.

Locks (3-5 USD)
Smart doorbells (5-8 USD)
Fastening locks (1-3 USD)
Socket (2-10 USD)
Source: Cross-border Master WeChat Official Account
The above content belongs to the author's personal opinion. This article is authorized to be reprinted by the original author and the reprinting requires the original author's authorization.
Like what you're reading? Subscribe to our top stories.
We will continue to update BusinessDialogue; if you have any questions or suggestions, please contact us!
Was this article helpful?
93 out of 132 found this helpful