Shopee will allow buyers to inspect the goods upon delivery; Philippines site releases new rules for failed returns package collection
Shopee introduces new rules in the Philippines for failed returns package collection and allows buyers to inspect goods upon delivery
01 Revolutionizing the Industry
Shopee allowing buyers for unboxing and inspection
According to Shopee's Vietnamese website, in order to enhance consumer confidence in shopping on the platform, attract more users, and increase seller revenue, the platform will launch the Đồng kiểm (Joint Inspection) program on May 19.
In short, the program allows buyers to unbox and inspect packages labeled with Đồng kiểm at the time of delivery by the courier, and reject and return unsatisfactory products.
It is worth noting that buyers can only check the appearance, quantity, etc. of the product, and cannot open anti-counterfeiting seals/tags, damage the product, or try it out. In addition, unboxing and inspection is not supported for vouchers, fresh and frozen products, dairy products, egg products, and products valued at more than 3 million Vietnamese dong.
Note (1): Shopee promises not to charge any additional fees/shipping charges for orders using this plan. All inspection and return costs will be borne by Shopee.
Note (2): The courier will take photos/records of the entire joint inspection process to preserve evidence for future complaint handling (if any).
For packages that do not support unboxing and inspection, the courier note will be marked with "Không đồng kiểm" for easy viewing by users and couriers.
This can be said to be a revolutionary move in the industry. As far as Lao Ba knows, in the early Southeast Asian e-commerce market, platforms allowed users to unbox and inspect before payment, but later Lazada was the first to ban this policy, and the reason why is clear to sellers. That's why Shopee's move is so bold.
However, currently this policy is only launched in Vietnam, and there is no news yet whether it will be expanded to other markets. We will continue to monitor this situation.
02 In the first quarter, Thailand's economy grew at a rate of 2.7%
According to foreign media quoting Thai officials, due to steady recovery of the tourism industry and strong consumer confidence offsetting weak exports, Thailand's economy grew by 2.7% in the first quarter.
The reading was released on the second day after the country conducted a public opinion poll and announced a lack of confidence in the economic management of the current Prime Minister Prayut, who has been supported by the military for nearly a decade.
The second largest economy in Southeast Asia has experienced an incomplete recovery from the pandemic, but the National Economic and Social Development Council expects the economy to grow by 2.7% to 3.7% this year.
The council stated that the expansion from January to March indicated a rebound from 1.4% in the previous quarter.
"There is no big problem with our domestic economy. Consumption and tourism continue to grow," said council secretary Danucha Pichayanan to the media.
The restrictions during the pandemic have severely hit the country's main tourism industry, which previously accounted for one fifth of the national income. The council stated that there have been 6.5 million international tourists visiting the country so far this year.
Mr. Danucha admitted that many Thai families are struggling with high energy costs.
Before the election, the major political parties were engaged in a financial bidding war to secure the votes of low-income families struggling to survive in the face of rising living costs.
The committee said that the incoming government must prioritize promoting exports and finding new potential markets by accelerating free trade negotiations.
03 Shopee Philippines Implements New Rule for Failed Returns
According to Shopee Philippines, starting from May 15, 2023, all packages that fail to be returned (returned twice without success) will be temporarily stored in the warehouse of the order return logistics.
The seller needs to contact the logistics customer service to arrange for self-pickup within 10 days after receiving the system notification.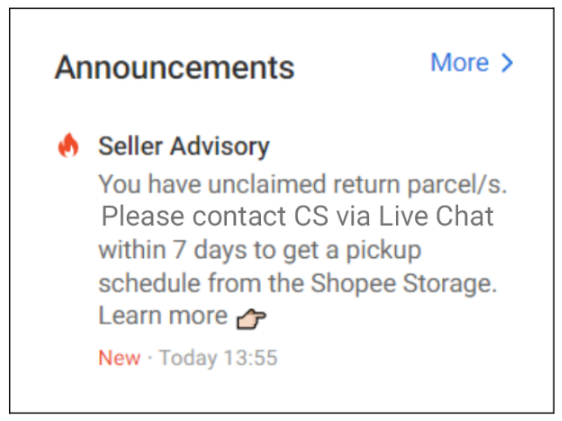 Contact Information for Logistics:
●SPX
Business hours: Monday to Friday 9:00-18:00
Contact number: 09176393374
Email: dexter.leong@shopee.com
●J&T
Business hours: Monday to Sunday 8:30-17:30
Contact number: (02) 8911-1888
Email: customerCA@jtexpress.ph
●XDE
Business hours: Monday to Saturday 10:00-17:00
Contact number: 0917-134-0933 & (02) 7959-6591
●Flash Express
Business hours: Monday to Sunday 10:00-18:00
Contact number: (02) 8539-4002
Email: fexcs_shopee@flashexpress.ph
Frequently Asked Questions:
1. Can I still pick up my package that was previously transferred to the Shopee Taguig warehouse for failed returns?
– If you have a package that failed to be returned before May 15th and has been transferred to the Shopee Taguig warehouse, please pick up your package before May 24th to avoid it being destroyed due to overtime.
2. If I am unable to collect the package on the scheduled date, can I still collect it later?
– As long as it has not been more than 10 days, you can still contact the logistics customer service to schedule a collection for the package.
3. What are the steps to collect a failed return package?
– Please contact the logistics company listed in this article to arrange for a pickup of the returned package. Sellers with managers can arrange for a pickup through their managers.
4. Can I have someone else collect the package on my behalf?
– Yes, you only need to provide the name and identity of the person collecting the package when contacting the logistics customer service, and bring your and the representative's identification documents when collecting the package.
5. What should I do if I cannot contact the logistics customer service?
– You can contact Shopee customer service for assistance in confirming the situation.
6. Where should I go to collect the package from the logistics warehouse?
– The specific location will be provided by the logistics customer service.
Like what you're reading? Subscribe to our top stories.
We will continue to update BusinessDialogue; if you have any questions or suggestions, please contact us!
Was this article helpful?
93 out of 132 found this helpful