Beginner's Guide to Affiliate Marketing Step-by-Step Instructions to Start an Independent Affiliate Program
Step-by-Step Guide to Starting an Independent Affiliate Program for Beginners
For independent cross-border e-commerce sellers, advertising, influencer marketing, and other methods can effectively bring traffic conversion and increase product sales. Among them, affiliate marketing is a low-cost, high-return channel that every independent seller should lay out. This beginner's guide will guide you on how to set up and manage affiliate marketing programs for independent sites to increase sales.
Step 1: Prioritize the promotion of high ticket products
First, choose which products to include in your affiliate program. You can actually choose all products, but a smarter approach is to prioritize the promotion of high-priced products. This way, you can not only increase revenue but also increase your affiliate earnings per click.
Think about it: an $80 product with a 10% commission is more attractive than a $5 product with a 10% commission. So let your affiliate partners know which products need to be promoted, and give them some suggestions, such as:
• Promote free shipping for orders over $50. 90% of consumers say free shipping is the top motivation for online shopping.
• Offer new customer discounts. Give new customers additional discounts on their first purchase, and then follow up with them through email and Facebook ads.
• Buy more, save more. Offer proportionally discounted promotions to increase the average order value. For example, spend $50 and save 20%, spend $100 and save 25%.
Provide valuable products and promotion techniques to your affiliate partners, and they will sell more products and bring more revenue to your business. If the strategy doesn't work, you can adjust the products and promotional information in your affiliate program at any time.
Step 2: Commission pricing, cash is the most attractive
After choosing the products, you need to decide on the commission plan. In fact, cash rewards are the most attractive. Although some e-commerce brands may choose to give away products for free or provide store points, it's best to provide cash rewards.
Next is to set the commission rate, usually with two options:
• Percentage commission, which is a percentage of each affiliate sale.
• Fixed rate commission, which earns a fixed amount for each successful order, such as $20 per transaction.
According to ReferralRock's data, the most common is the percentage commission, with an average commission between 5% and 30%. You can set a starting point for your business based on these suggested rates.
If this rate is not suitable for your business in practice, you can adjust the pricing at any time. Alternatively, you can also consider using multiple commission types to create different quotes.
According to ReferralRock's data, the percentage commission is more common in affiliate programs, with an average commission between 5% and 30%. Shopify expert HeyCarson divides affiliate commissions by category, ranging from 10% to 40% of sales.
As a reference, Amazon's typical commission income rate is between 1% and 20%, depending on the product being promoted.
Step 3: Choose an affiliate management platform
You can use the partners and applications of ShopMaster to create an affiliate program for independent e-commerce stores, simply by selecting and registering an affiliate application. Then, each application will guide you through the introductory process, teaching you how to create an affiliate program that meets your business needs.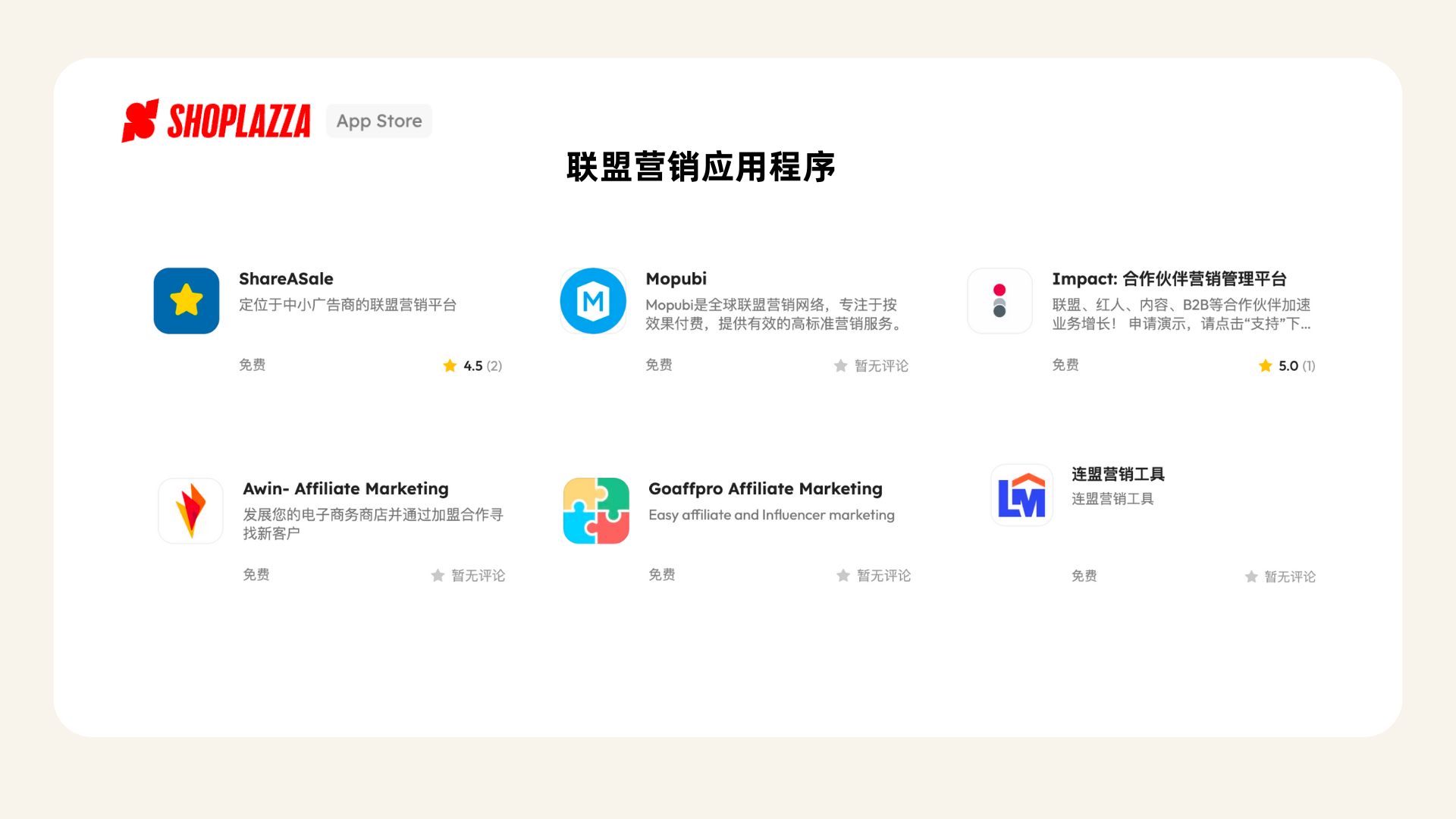 For example, Blume promotes its program online through ShareASale (and other networks). Blume's list is straightforward. It introduces the brand and its products to potential affiliates, the benefits of the program (such as a 30% commission rate), and explains how to participate.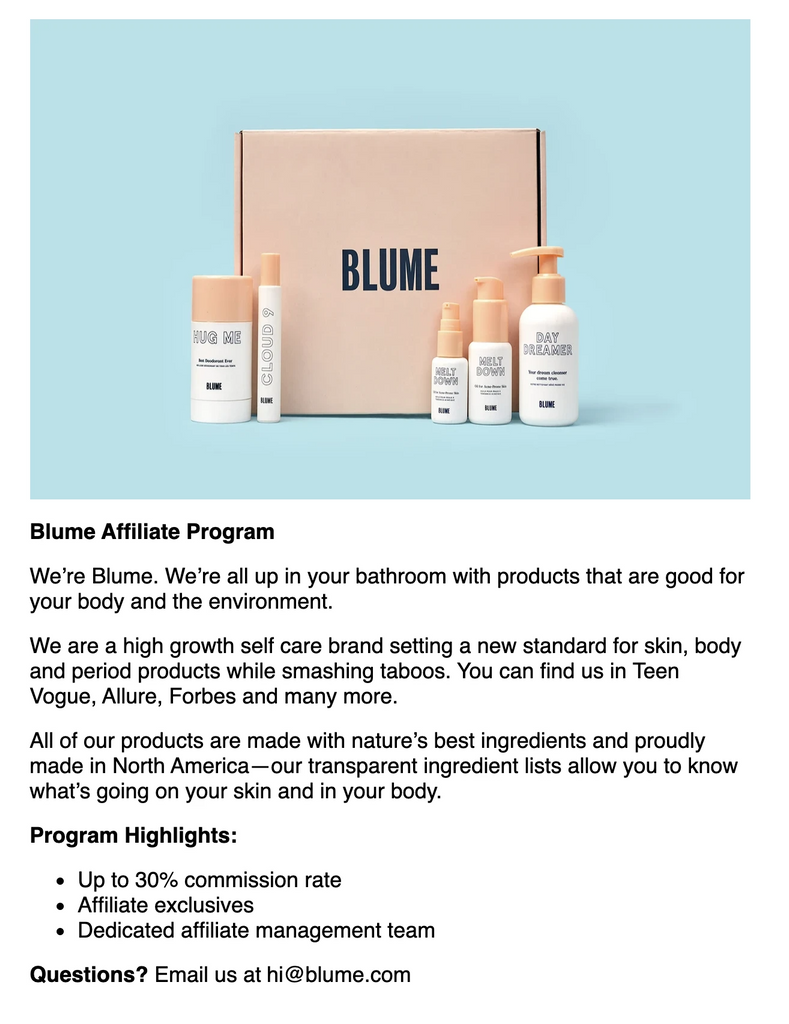 Step 4: Recruit Affiliate Members
After you have learned how to create an affiliate program, you need to recruit suitable affiliate members to join the program. You can attract affiliate members through social media, email, your website, and affiliate websites. At the same time, make sure to provide potential promoters with the information they want to know when promoting the affiliate program, such as product/service relevance, affiliate program reputation, and affiliate network or tracking platform.
Email
Compared with other channels, requesting participation in the affiliate program through email has the greatest impact. Tell your subscribers about the affiliate program and encourage them to apply and help spread the word to others who may be interested.
If you have specific affiliate members you want to contact, you can send them a private email using the template below.
Hi [affiliate name],
I am with [your company], and we're interested in working with you on a marketing campaign. The campaign would be centered around [describe what the campaign will look like and what the affiliate would do], and we think you would be a perfect fit.
We're targeting a kick-off date of [target date] for the campaign, and I wanted to see if this opportunity is something you would be interested in. Our commission rate is between [your rate range]. I would love to discuss this in greater detail and answer any questions you may have.
Thank you,
[your full name]
[your phone number]
[your company with link to your website]
Chinese translation:
Hello [affiliate name],
I am from [company name], and we are interested in working with you on a marketing campaign. The campaign will be centered around [describe what the campaign will look like and what the affiliate would do], and we think you would be a perfect fit.
We have set the start date of the event as [target date], and I would like to know if you are interested in this opportunity. Our commission rate falls within [your rate range]. I am willing to discuss with you in detail and answer any questions you may have.
Sincerely,
[Your full name]
[Your phone number]
[Your company and website link]
Step 5: Managing Affiliate Programs
Once you have recruited affiliate members, you need to closely monitor their performance as well as that of your program.
It is essential to stay in touch with your affiliate members on a regular basis to build a stable and ongoing affiliate program, which can be achieved through email and other means.
Remember to ensure that your affiliate members understand the rules of the program and are familiar with your brand. Provide them with fixed content such as tutorials, webinars, chart information, pre-written social media posts, etc. to maintain consistency.
Remember to track your affiliate performance with various indicators. We recommend using UTM parameters to track affiliate marketing performance and closely monitor various indicators such as total affiliate sales, sales per affiliate member, average order amount, etc. to evaluate the effectiveness of the program.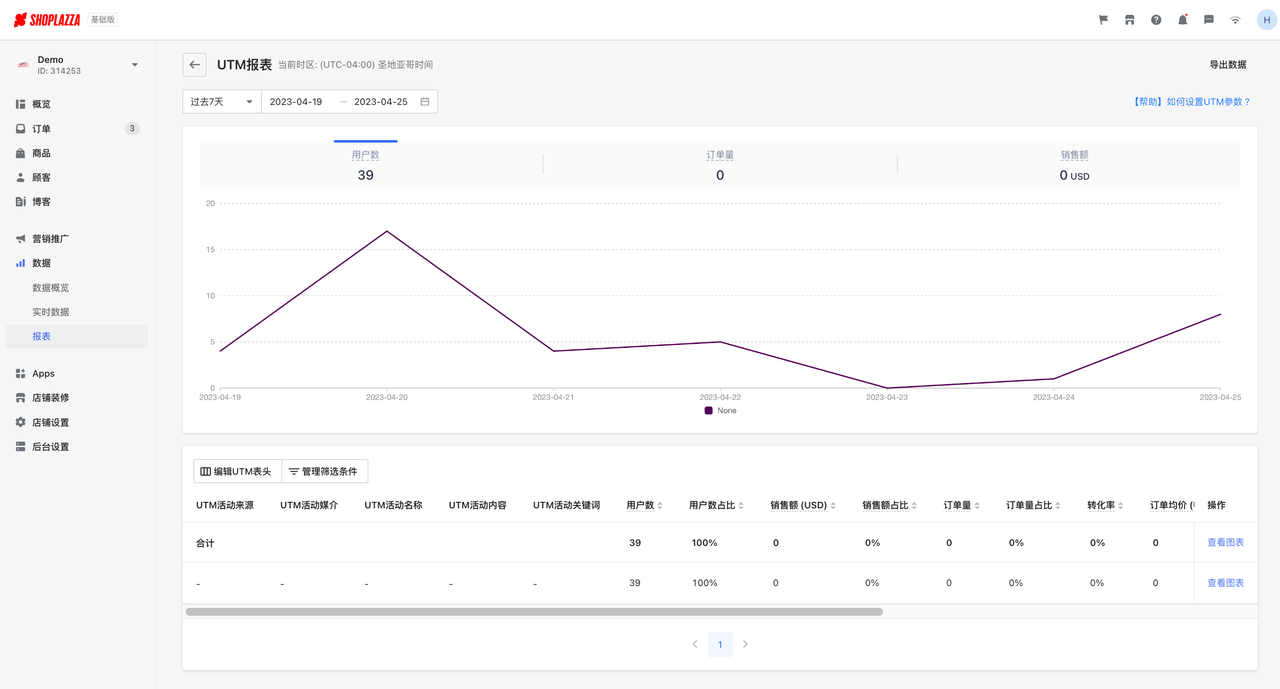 Establishing a stable affiliate marketing plan is not an overnight task and requires patience and effort over a long period of time.
However, don't worry. As long as you follow these steps, keep track of data and feedback in a timely manner, your independent website sales are sure to soar! Don't forget to maintain close contact with your affiliate partners and provide them with practical resources and support to achieve a win-win situation together!
This HTML code represents a paragraph containing an image with the source URL of "https://img.kuajingyan.com/home/2023-05-09/16_44_36_81b5844f4bc85e14.png".
Like what you're reading? Subscribe to our top stories.
We will continue to update BusinessDialogue; if you have any questions or suggestions, please contact us!
Was this article helpful?
93 out of 132 found this helpful