What are the terms and policies for independent cross-border e-commerce websites? How should they be written?
Terms and policies for cross-border e-commerce websites? How to write them?
Nowadays, third-party e-commerce platforms are imposing more and more restrictions on sellers, making it difficult for everyone to breathe. On the other hand, independent websites offer more freedom and allow you to have more control over your business, as reflected in the fact that independent site sellers can independently establish shipping, delivery, refund policies, etc.
However, cross-border sellers are not professional legal personnel. How should these policies be written? Don't worry, this article introduces the five essential policy points that independent sites must have, making it easy for you to understand independent site policies!
Shipping Policy
In independent site operations, the most important thing is shipping policy.
In order for independent sites to pass the advertising review system and for customers to clearly understand shipping information, independent site sellers need to provide detailed and comprehensive shipping policies.
Generally speaking, shipping policies should include the following:
• Be sure to inform customers of the delivery time, clearly indicating whether it is a working day or a natural day;
• Provide estimated shipping time and corresponding postage for different regions and markets;
• Clearly state which regions can be shipped and which cannot;
• If a free shipping policy is provided, the policy content and conditions should be clearly explained, such as the scope of free shipping, the minimum consumption amount, the minimum purchase quantity, etc;
• If there are multiple express delivery options to choose from, list their respective policies, prices, and delivery times;
• Finally, if there are any tariff issues, it is necessary to clearly state which party bears the cost.
Independent site merchants can refer to the wording used by competitors or excellent independent sites and modify them according to their own actual situation.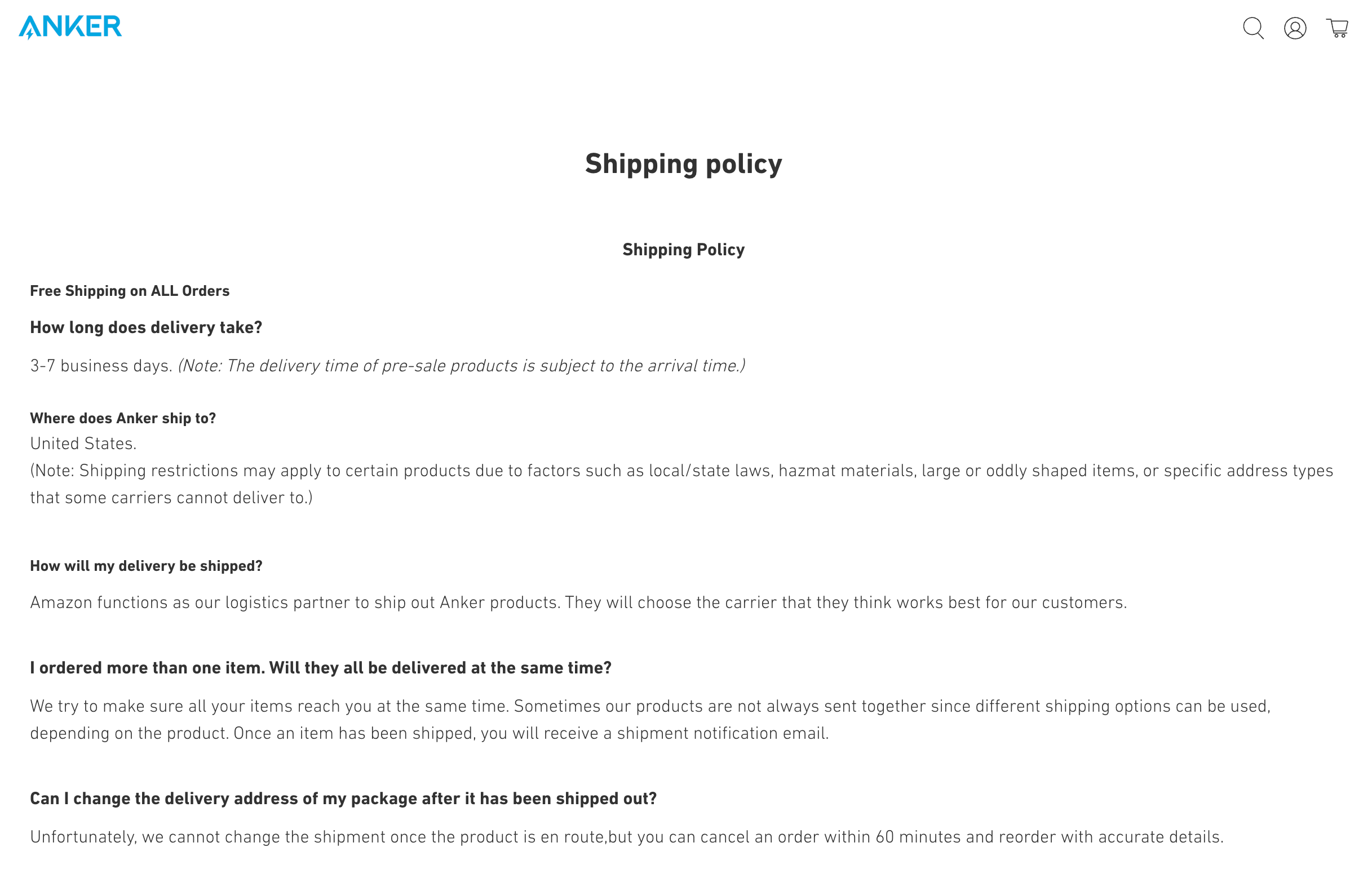 Return & Refund policy
This is one of the most important policies for an independent website. The return and refund policy must be clear and precise, informing customers of the details of the return and refund process. Typically, consumers are more likely to trust independent websites that have a refund policy.
If you support returns, due to cross-border logistics, the shipping address may be an overseas warehouse or a domestic warehouse. Therefore, it is recommended to inform customers in the terms and conditions not to return items to the original address. After submitting a request, you will be notified of the specific address by email.
Even if you do not offer returns, it is still important to clearly state so.
In addition, it is important to clearly state who is responsible for the return and exchange postage, handling fees, processing time, etc. Inform customers how to process returns and refunds, including what needs to be done, under what circumstances they apply, the deadline for returns, when refunds will be received, etc.
Still unsure how to write it? No problem! You can use policy templates to generate text with one click, and modify the corresponding information based on your actual situation.
Contact us
This section needs to make customers feel that the independent website is trustworthy, which is also very important for advertising system review.
At least two real and effective contact methods, such as address, phone number, and email, need to be provided on this page.
The telephone number provided must include the country code, such as +861390000000, etc. In addition, it is recommended to provide information from China and avoid emphasizing too much on overseas information, in order to avoid being suspected of hiding the identity of a Chinese merchant.
At the same time, contact information must be provided in text form (copy and pasteable).
The most important thing is not to simply display the information filled in the form and submit feedback, as it is easy to be rejected by the advertising system.
Privacy Policy
The collection and application of personal information in the European and American markets are highly valued, so this is very important. It is recommended that merchants directly authorize and use a cookie pop-up declaration in the background. Before accessing customer data, they should obtain the customer's consent regarding the use of cookies, mainly for visitors from the European Union.

In the policy, you need to state that you will not use the user's personal information or pictures for advertising without the user's consent.
In addition, to protect the user's personal information such as credit card information, SSL technology should be used for encryption. The independent station SaaS system has automatically configured SSL technology for independent station merchants, so you don't have to worry too much about it.
About Us
This page is not essential, but having it will enhance the independent station.
As we all know, business is about telling every story well. Tell your brand story well and let consumers trust you more. This is where you can show your skills.
You can introduce the company background, corporate work environment, awards, philosophy, etc., and convey a good story to consumers. Patpat, for example, introduces the time and vision, philosophy, achievements, and more in the "About Us" section, which can help consumers trust the brand more.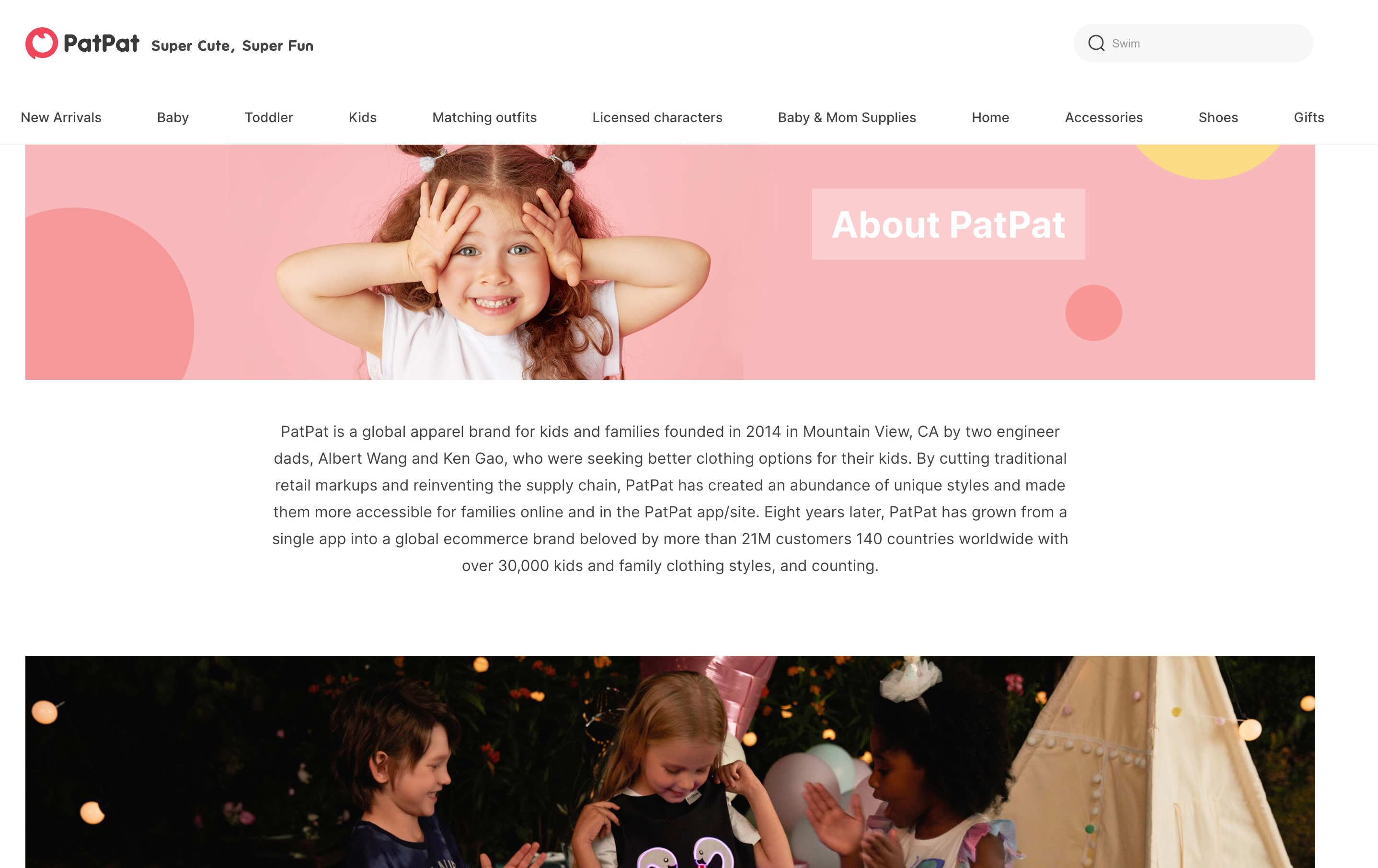 These are the necessary policy pages for an independent station. If you want your independent station to look more complete, you can also add F&Q, order inquiry pages, etc. Also, after writing the content of the policy page, it is recommended to put it in the footer and navigation bar of the independent station. Remember, the goal is to make it easy for consumers to find this information!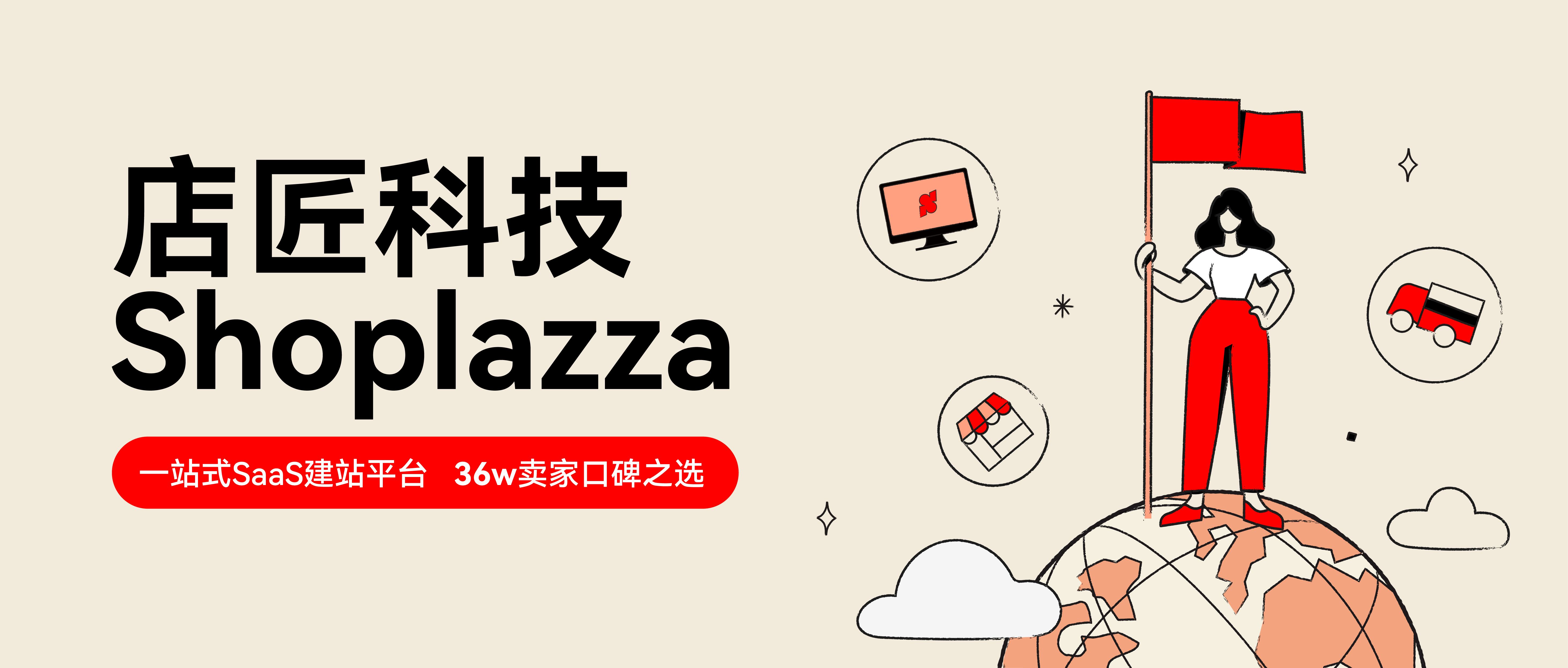 The HTML code is already in English, it is a paragraph tag containing an image tag with a specific source URL.
Like what you're reading? Subscribe to our top stories.
We will continue to update BusinessDialogue; if you have any questions or suggestions, please contact us!
Was this article helpful?
93 out of 132 found this helpful